We are delighted to welcome Professor David Cole-Hamilton, University of St Andrews, UK as an Editorial Board Member for RSC Sustainability, a new open access journal publishing solution-focused research to solve sustainability challenges.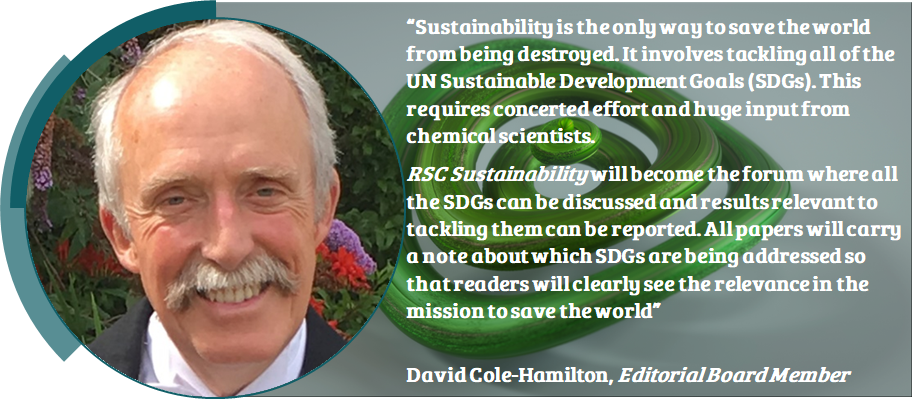 Learn more about our new Editorial Board Member
Following degrees (BSc and PhD) at Edinburgh University, David Cole-Hamilton worked with Nobel Laureate, Sir Geoffrey Wilkinson at Imperial College, where he developed a strong interest in organometallic chemistry and especially homogeneous catalysis. His independent career started at Liverpool University (Lecturer and Senior Lecturer) before moving to be Professor of Chemistry at the University of St. Andrews in 1985. He became Emeritus in 2014.
The majority of his work has been on the applications of organometallic chemistry to solving problems in homogeneous catalysis and materials chemistry including nanomaterials. His most recent work has been concerned with making commodity and fine chemicals including plastics and pharmaceuticals from bio-derived waste oils that are by-products of other processes such as food production or paper manufacturing. In this way desirable effect chemicals can be made from biomass without using land that would otherwise be used for food production.
David has published more than 400 articles and patents with an h-index of 50.  Particularly relevant to the scope of RSC Sustainability is The Role of Chemists and Chemical Engineers in a Sustainable World, in which he shows how chemistry can be used to tackle all of the 17 United Nations Sustainable Development Goals (SDGs).
He has won a number of prizes from the Royal Society of Chemistry as well as 5 prizes for teaching. In 2017 he was awarded the Alwin Mittasch Prize of the German Catalysis Society.
David is a past President of the European Chemical Society (EuChemS) having been President from 2013-7. This gave him extensive contact with chemical societies and policy makers throughout Europe. On behalf of EuChemS he led a team celebrating the International Year of the Periodic Table, which developed a new version of the Periodic Table highlighting element availability and vulnerability as well as which elements can come from conflict resources and which appear in smart phones.
Read some of his recent contributions below:
Synthesis of pharmaceutical drugs from cardanol derived from cashew nut shell liquid
Yiping Shi, Paul C.J. Kramer and David J. Cole-Hamilton
Green Chemistry, 2019, 21, 1043-1053
Insight into the mechanism of decarbonylation of methanol by ruthenium complexes; a deuterium labelling study
Patrizia Lorusso, Graham R. Eastham and David J. Cole-Hamilton
Dalton Transactions, 2018, 47, 9411-9417
Read out first articles here. Find out more about RSC Sustainability on the journal webpage and submit your manuscript now.
Please join us in welcoming Professor David Cole-Hamilton to RSC Sustainability.