We are delighted to welcome Dr Martin Prechtl, University of Lisbon, Portugal, as an Associate Editor for RSC Sustainability, a new open access journal publishing solution-focused research to solve sustainability challenges.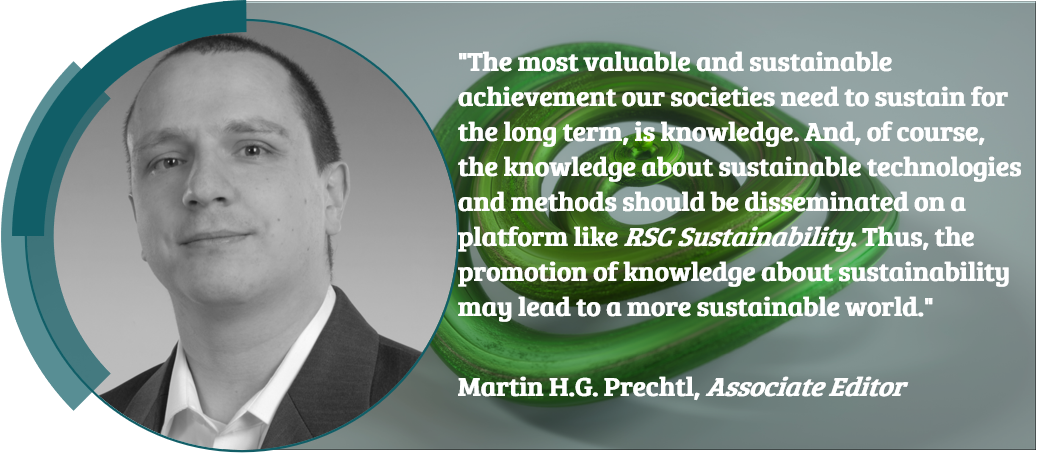 Learn more about our new Associate Editor
Martin Prechtl works at the Centro de Química Estrutural (CQE) at the Instituto Superior Técnico of the University of Lisbon (IST-UL, Portugal). There he completed the examination for the Portuguese Habilitation in 2021 and received the "Agregação" for Chemistry (Título do Agregado). Previously he has been already an Associated Researcher at the CQE-IST-UL since 2017. Moreover, he acted as a Professor of Chemistry at Roskilde University (2018-2020, Denmark). And he has been working as Independent Group Leader at the University of Cologne (Germany) from 2010 to 2020, where he obtained the German Habilitation in 2015 and he holds the Venia Legendi in Inorganic Chemistry ("Privatdozent").
He works on the development of molecular and nanoscale catalyst materials for the application the in organic synthesis and hydrogen/energy storage, with a focus on selective hydrogenation and dehydrogenation reactions. This includes reactions in water, ionic liquids and multi-phase solvent systems. He gave numerous oral presentations (~140) at major (inter)national conferences and at prestigious research institutes, and published >70 articles and book chapters. He received several awards and titles, among those the NRW Scientist Returnee Award 2009, the Ernst-Haage-Prize 2014 (Max-Planck Society), FRSC (2016) and Humboldtian (2007). He acted previously as Associate Editor for RSC Advances from 2016 to 2020.
Read some of his recent contributions below:
Biometallic RuPd nanoparticles in ionic liquids: selective catalysts for the hydrogenation of aromatic compounds
Gabriel Abarca, Wellington D.G. Gonçalves, Brunno L. Albuquerque, Jairton Dupont, Martin H.G. Prechtl and Jackson D. Scholten
New Journal of Chemistry, 2021, 45, 98-103
Nitrile hydrogenation using nickel nanocatalysts in ionic liquids
Hannelore Konnerth and Martin H.G. Prechtl
New Journal of Chemistry, 2017, 41, 9594-9597
RSC Sustainability is now open for submissions. Find out more on the journal webpage, sign up to e-Alerts or submit your manuscript now.
Please join us in welcoming Dr Prechtl to RSC Sustainability.