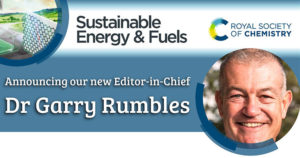 Garry Rumbles is a Senior Research Fellow in the Chemistry and Nanoscience Center at the National Renewable Energy Laboratory (NREL) and an adjoint Professor of Chemistry at the University of Colorado Boulder. More widely, he is the Associate Director for Research in the Renewable and Sustainable Energy Institute (RASEI), a joint energy institute between NREL and the University, and holds a visiting Professorial Chair at Imperial College, London. Garry is a photochemist and physical chemist whose research focusses on the harvesting of solar energy for the production of electricity, fuels and chemicals in molecular and polymeric systems.
"With a view to increasing the diversity of editors, contributors, advisory board, and readers, I'm excited to work to further build the reputation of Sustainable Energy & Fuels in the energy and chemistry space" – Garry Rumbles
We would like to take this opportunity to thank our previous, and founding, Editor-in-Chief, Professor James Durrant, for his service to the journal. James says: "As Editor-in-Chief I am proud to have overseen the establishment and growth of Sustainable Energy & Fuels since its launch four years ago and am delighted that Garry Rumbles is now taking over the role. I very much look forward to seeing the journal develop further under his excellent leadership."
Garry has selected some of his favourite research from the past year to share with you. Read these papers now for free until the end of March 2021: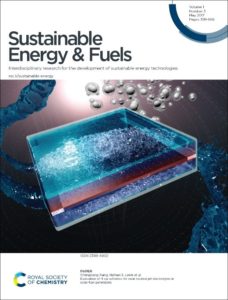 Interfacial analysis of a PEM electrolyzer using X-ray computed tomography
Emily Leonard, Andrew D. Shum, Nemanja Danilovic, Christopher Capuano, Katherine E. Ayers, Lalit M. Pant, Adam Z. Weber, Xianghui Xiao, Dilworth Y. Parkinson and Iryna V. Zenyuk*
How one-photon can induce water splitting into hydrogen peroxide and hydrogen by aluminum porphyrins. Rationale of the thermodynamics
Fazalurahman Kuttassery, Siby Mathew, Hiroshi Tachibanaa and Haruo Inoue*
Determining the sequence and backbone structure of "semi-statistical" copolymers as donor–acceptor polymers in organic solar cells
Samuel S. Lawton, Daniel Warr, Luís M. A. Perdigão, Yujing Chang, Agnieszka Pron, Giovanni Costantini ORCID and David M. Haddleton*
Effect of synthesis pH and EDTA on iron hexacyanoferrate for sodium-ion batteries
Zachary G. Neale, Chaofeng Liu and Guozhong Cao*
Recent advances of nonprecious and bifunctional electrocatalysts for overall water splitting
Xiao Shang, Jian-Hong Tang, Bin Dong* and Yujie Sun*
From non-innocent to guilty: on the role of redox-active ligands in the electro-assisted reduction of CO2 mediated by a cobalt(ii)-polypyridyl complex
N. Queyriaux,* K. Abel, J. Fize, J. Pécaut, M. Orio* and L. Hammarström*
Theoretical insights into the factors affecting the electrochemical reduction of CO2
Azeem Mustafa, Bachirou Guene Lougou,* Yong Shuai,* Zhijiang Wang, Samia Razzaq, Jiupeng Zhao and  Heping Tana
Mechanisms of photoredox catalysts: the role of optical spectroscopy
Noufal Kandoth,* Javier Pérez Hernández, Emilio Palomares and Julio Lloret-Fillol*
We hope that you enjoy reading these papers, and please join us in welcoming Garry as he leads Sustainable Energy & Fuels to continued success.