We are delighted to highlight the latest Sustainable Energy & Fuels themed issue on Organic Materials for Energy Conversion and Storage.
Guest Edited by Emilio Palomares (ICIQ and ICREA) and Juan Luis Delgado (Ikerbasque and Polymat), this issue showcases studies on the recent progress and challenges in the field of organic, inorganic and hybrid materials for energy conversion. This includes advances in photovoltaics, solar to fuels conversion, and catalysis for sustainable energy applications. You can read our Editorial introducing this issue here.

In addition to the Open Access articles in this issue, all articles are free to access until 28th February.
Below is a small selection of some of the articles featured in the issue:
Proton trap effect on catechol–pyridine redox polymer nanoparticles as organic electrodes for lithium batteries
Antonela Gallastegui, Daniela Minudri, Nerea Casado, Nicolas Goujon, Fernando Ruipérez, Nagaraj Patil, Christophe Detrembleur, Rebeca Marcilla and David Mecerreyes*
Benzothiadiazole-based photosensitizers for efficient and stable dye-sensitized solar cells and 8.7% efficiency semi-transparent mini-modules

Maxime Godfroy, Johan Liotier, Valid M. Mwalukuku, Damien Joly, Quentin Huaulmé, Lydia Cabau, Cyril Aumaitre, Yann Kervella, Stéphanie Narbey, Frédéric Oswald, Emilio Palomares, Carlos A. González Flores, Gerko Oskam and  Renaud Demadrille*
The Effect of bulky electron-donating thioether substituents on the performances of Phthalocyanine based Dye Sensitized Solar Cells
Mine Ince*, Ren Kuboi, Tuncay Ince, Kuon Yoshimura, Daiki Motoyoshi, Masahiro Sonobe, Ryota Kudo, Shogo Mori*, Mutsumi Kimura* and Tomás Torres*
Mechanisms of photoredox catalysts: the role of optical spectroscopy
Noufal Kandoth*,   Javier Pérez Hernández, Emilio Palomares and Julio Lloret-Fillol*
We hope that you enjoy reading the great research featured in this issue!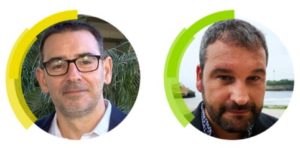 Emilio Palomares and Juan Luis Delgado