This collection showcases all 2017 Sustainable Energy & Fuels articles highlighted as HOT by the handling editor.  Congratulations to all the authors whose articles are featured.
Read it here now for free until the end of February 2018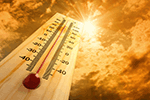 It includes:
Review Article 
Current understanding of chemical degradation mechanisms of perfluorosulfonic acid membranes and their mitigation strategies: a review
M. Zatoń, J. Rozière and D. J. Jones
Sustainable Energy Fuels, 2017, 1, 409-438. DOI: 10.1039/C7SE00038C
Perspective 
Low-grade waste heat recovery using the reverse magnetocaloric effect
Ravi Anant Kishore and Shashank Priya
Sustainable Energy Fuels, 2017, 1, 1899-1908. DOI: 10.1039/C7SE00182G
Communication 
Revealing how molten salts promote CO2 capture on CaO via an impedance study and sorption kinetics simulation
Liang Huang, Chunming Xu, Rongzheng Ren, Qianwen Zheng, Zhenhua Wang, Benoît Louis and Qiang Wang
Sustainable Energy Fuels, 2018, 2, 68-72. DOI: 10.1039/C7SE00502D
Paper 
Surface-modified metal sulfides as stable H2-evolving photocatalysts in Z-scheme water splitting with a [Fe(CN)6]3−/4−redox mediator under visible-light irradiation
Takashi Shirakawa, Masanobu Higashi, Osamu Tomita and Ryu Abe
Sustainable Energy Fuels, 2017, 1, 1065-1073. DOI: 10.1039/C7SE00151G
Paper 
Candidate photoferroic absorber materials for thin-film solar cells from naturally occurring minerals: enargite, stephanite, and bournonite
Suzanne K. Wallace, Katrine L. Svane, William P. Huhn, Tong Zhu, David B. Mitzi, Volker Blum and Aron Walsh
Sustainable Energy Fuels, 2017, 1, 1339-1350. DOI: 10.1039/C7SE00277G
Paper 
Evaluation of flow schemes for near-neutral pH electrolytes in solar-fuel generators
Meenesh R. Singh, Chengxiang Xiang and Nathan S. Lewis
Sustainable Energy Fuels, 2017, 1, 458-466. DOI: 10.1039/C7SE00062F
 
We hope you enjoy reading the articles.
Is your research HOT? Our editors are already handpicking the hottest 2018 content for our rolling 2018 Sustainable Energy & Fuels HOT Articles collection. Submit your work for consideration now.