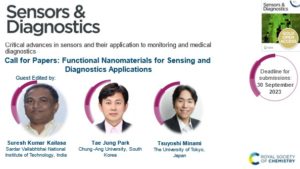 Sensors & Diagnostics is delighted to welcome papers for its latest themed collection on 'Functional Nanomaterials for Sensing and Diagnostics Applications', guest edited by Suresh Kumar Kailasa (Sardar Vallabhbhai National Institute of Technology, India); Tae Jung Park (Chung-Ang University, South Korea); and Tsuyoshi Minami (The University of Tokyo, Japan).
We welcome primary research articles, reviews and communications on the following topics:
Functional 0D nanostructured materials for molecular sensing
Plasmonic fluorescent sensors for point of care diagnostics
Nanostructure-based paper strips for biomarker detection
Functional nanomaterials in diagnostics and therapeutics
Nanomaterials for molecular imaging and therapeutics
The deadline for submissions is 30 September 2023. Submit your work to this collection now!
Promotion of the collection is scheduled for late-2023, with articles published online as soon as they're accepted.
Articles can be submitted via our website: www.rsc.li/sensors-diagnostics. When submitting your manuscript, please mention that it is intended for this themed collection in the 'notes to the editor' box. The Editorial Office reserves the right to check suitability of submissions for both the journal and the scope of the collection, and inclusion of accepted articles in the final themed collection is not guaranteed.
Explore all open calls for papers from RSC journals!
About Sensors & Diagnostics
Sensors & Diagnostics publishes focused on high-impact, innovative sensing work.
The journal welcomes high-quality studies reporting innovative materials, novel detection principles, and/or significant development of known devices. All work must be of significant interest to the community, and, where relevant, must show in situ or real-life sample testing.
Sensors & Diagnostics welcomes contributions from across the breadth of related fields, including biomedical research, drug discovery, environment, food, medicine, and security and defence. Find out more.
As a gold open access journal, there are no barriers to accessing content and your research article will reach an international audience. Please note that the article processing charges are waived until mid-2024, so the journal is currently completely free to publish in.