We are delighted to share with you today the first articles published in Sensors & Diagnostics.
Sensors & Diagnostics is a gold open access journal for high-impact sensors research. We highlight emerging research on physical, chemical and bio sensors, as well as sensor devices and systems.
There are 4 fantastic free to read articles on topics ranging from in situ recalibration of electrodes to a colorimetric assay involving aggregation of gold nanocomposites for the detection of proteins.
Read on to see the 4 papers and to hear the thoughts of our authors.
Perspective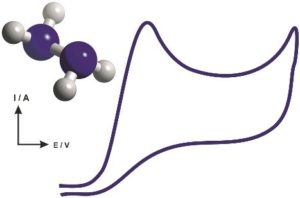 Electroanalytical overview: the electroanalytical sensing of hydrazine
Robert D. Crapnell and Craig E. Banks
Sens. Diagn., 2022, Advance Article
DOI: 10.1039/D1SD00006C
Professor Craig Banks on his work: "Our paper, one in a series providing an electroanalytical overview of…hydrazine, provides an authoritative overview of the past sensing of hydrazine with a summary of the current approaches, in addition to providing researchers with targets/goals of what is needed to push this field further."
Communication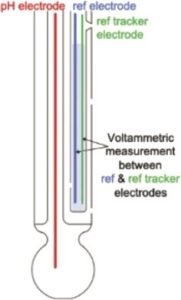 In situ recalibration of ion selective electrodes
Neel Sisodia, Kay L. McGuinness, Jay D. Wadhawan and Nathan S. Lawrence
Sens. Diagn., 2022, Advance Article
DOI: 10.1039/D1SD00003A
Dr Nathan Lawrence comments that "When we first read the scope of Sensors and Diagnostics we knew this work would be an ideal fit. Our inaugural article in Sensors & Diagnostics focuses on improving classical glass pH sensors by real time monitoring and compensation for reference electrode drift (one of the key causes of routine field calibration of pH sensors)."
Papers

Quad-band terahertz metamaterial absorber enabled by an asymmetric I-type resonator formed from three metallic strips for sensing application
Ben-Xin Wang, Yangkuan Wu, Wei Xu, Zhuchuang Yang, Liming Lu and Fuwei Pi
Sens. Diagn., 2022, Advance Article
DOI: 10.1039/D1SD00005E
Professor Ben-Xin Wang explains the key features of their work: "Dimension changes of the [I-type] resonator, especially the metallic strip in the vertical direction, have an important role in controlling quad-band absorption performance, these results should have potential applications in terms of detection, sample composition identification or sensing."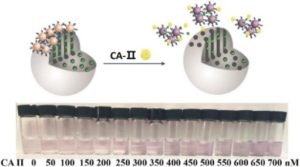 Colorimetric assay based on iron(III) ions triggering the aggregation of a poly(tannic acid) coated Au nanocomposite for carbonic anhydrase II detection
Jiale Pan, Junjiao Yang, Shiman Yao and Jing Yang
Sens. Diagn., 2022, Advance Article
DOI: 10.1039/D1SD00015B
Dr Jing Yang comments that "a domino-type protein sensor was explored, in which….released iron (III) ions from mesoporous silica nanoparticles coordinate with poly(tannic acid), leading to AuNP aggregation and the change of the visual colour."
We hope you enjoy reading these articles!
Contact the Editorial Office: sensors-rsc@rsc.org
Visit our website – rsc.li/sensors
---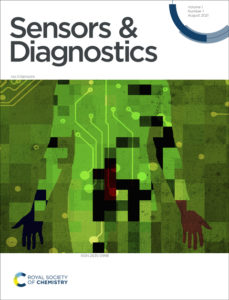 Sensors & Diagnostics is the home for innovative research on sensors, sensing devices and systems.
A gold open access journal, all article-processing charges (APCs) are waived until mid-2024.
Submit your work to us today – rsc.li/sensors
Keep up to date with journal news and new articles on Twitter