We are delighted to welcome Professor Ling Hao to the Molecular Omics Editorial Board!
About Ling: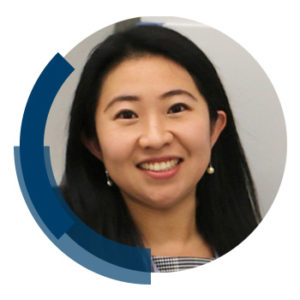 Ling Hao is an Assistant Professor of Chemistry at the George Washington University in Washington DC. She received her PhD in 2017 from the University of Wisconsin-Madison with Prof. Lingjun Li in mass spectrometry method development and conducted postdoctoral research in neurobiology in Dr Richard Youle's lab and Dr Michael Ward's lab at the National Institutes of Health. Since starting her own research group in 2019, she has received a National Science Foundation CAREER Award, a Rising Star Award from the Human Proteome Organisation, a Ralph E Powe Junior Faculty Enhancement Award from Oak Ridge Associated Universities, and a Cottrell Scholar Award from the Research Corporation for Science Advancement.
Research in her lab focuses on developing mass spectrometry-based proteomics, metabolomics and lipidomics methods to study neuroscience questions. Her team combines analytical chemistry, cell biology and bioinformatic strategies to understand organelle dynamics, proteostasis and molecular interactions in human stem cells and stem cell-derived neurons, with the goal to decipher molecular mechanisms underlying brain diseases.
Find out more about Ling and her research on her webpage and check out some of her RSC publications below:
---
Integrated proteomic and metabolomic analyses of the mitochondrial neurodegenerative disease MELAS
Haorong Li, Martine Uittenbogaard, Ryan Navarro, Mustafa Ahmed, Andrea Gropman, Anne Chiaramello and Ling Hao
Mol. Omics, 2022, 18, 196-205
Site-specific characterization and quantitation of N-glycopeptides in PKM2 knockout breast cancer cells using DiLeu isobaric tags enabled by electron-transfer/higher-energy collision dissociation (EThcD)
Zhengwei Chen, Qing Yu, Ling Hao, Fabao Liu, Jillian Johnson, Zichuan Tian, W. John Kao, Wei Xu and Lingjun Li
Analyst, 2018, 143, 2508-2519
Relative quantification of amine-containing metabolites using isobaric N,N-dimethyl leucine (DiLeu) reagents via LC-ESI-MS/MS and CE-ESI-MS/MS
Ling Hao, Xuefei Zhong, Tyler Greer, Hui Ye and Lingjun Li
Analyst, 2015, 140, 467-475
---
Find out more about our full Editorial Board on our webpage.