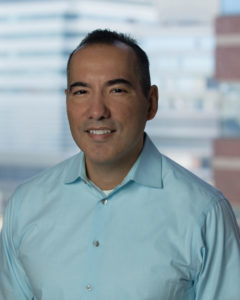 Molecular Omics is delighted to present Editorial Board member Professor Benjamin Garcia. Introduced to mass spectrometry in his undergraduate studies at UC Davies with Prof. Carlito Lebrilla, his interest in the subject led to a PhD with Professor Donald Hunt at the University of Virginia, followed by a postdoctoral position at the University of Illinois with Professor Neil Kelleher. In 2008, Ben took up an Assistant Professor position at Princeton University before moving to his current faculty at the University of Pennsylvania School of Medicine in 2012. In 2016 he was promoted to full Professor. He has been the recipient of numerous awards including a National Science Foundation Early Faculty CAREER award, an NIH Director's New Innovator award, the Presidential Early Career Award for Scientists and Engineers, PECASE (awarded by President Obama) and the 2018 ASMS Biemann Medal.
Ben Garcia's research group focuses on quantitative mass spectrometry for systems epigenetics. Using high-resolution mass spectrometry, the lab explores cellular signaling, epigenetic mechanisms and chromatin regulation, with an aim to elucidate the mechanisms of various diseases.
Upon joining the Editorial Board, Professor Garcia said, "I'm very excited to join the Molecular Omics board, as with the shift we are experiencing in many fields to include multi-omics analyses, I believe this journal can play a strong role in promoting and regulating this science at the forefront."
Find out more about our other Editorial Board members by visiting the Molecular Omics webpage.