We are delighted to share the articles and discussions on Artificial water channels published in our latest volume of Faraday Discussions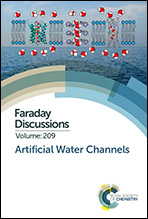 .
Highlights include:
Open Access
Single-file transport of water through membrane channels
Andreas Horner and Peter Pohl
Faraday Discuss., 2018, 209, 9–33
Hyperpolarised NMR to follow water proton transport through membrane channels via exchange with biomolecules
Viorel Nastasa, Cristina Stavarache, Anamaria Hanganu, Adina Coroaba, Alina Nicolescu, Calin Deleanu, Aude Sadet and Paul R. Vasos
Faraday Discuss., 2018, 209, 67–82
Open Access
Water and hydrophobic gates in ion channels and nanopores
Shanlin Rao, Charlotte I. Lynch, Gianni Klesse, Georgia E. Oakley, Phillip J. Stansfeld, Stephen J. Tucker and Mark S. P. Sansom
Faraday Discuss., 2018, 209, 231–247
Open Access
Molecular dynamics simulations of carbon nanotube porins in lipid bilayers
Martin Vögele, Jürgen Köfinger and Gerhard Hummer
Faraday Discuss., 2018, 209, 341–358
Artificial water channels: inspiration, progress, and challenges
Bing Gong
Faraday Discuss., 2018, 209, 415–427
We hope you enjoy reading the articles. Why not join us for one of our upcoming Faraday Discussions and get involved yourself!
Don't miss your chance to submit an abstract for Nanolithography of biointerfaces
Oral abstract deadline: 11 October 2018