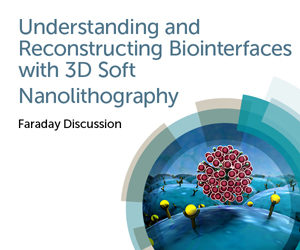 We'll be discussing some of the latest developments in nanolithography of biointerfaces at our Faraday Discussions meeting in London, UK from 3–5 July 2019.
Topics for debate include multidimensional micro- and nano-printing technologies, preparation of multivalent glycan micro- and nano-arrays, glycan interactions on glycocalyx mimetic surfaces, as well as surface functionalization and characterization.
Our programme includes an excellent line-up of speakers:
Peter Seeberger (Max Planck Institute of Colloids and Interfaces),
Elisa Riedo (NYU – Tandon School of Engineering),
Ten Feizi (Imperial College London),
Laura Kiessling (MIT)
Yoshiko Miura (Kyushu University),
Zijian Zheng (The Hong Kong Polytechnic University)
and many more…
We hope you can join us: submit your oral abstract by 11 October!
In the meantime we've collected together some recent articles in this area from across the Royal Society of Chemistry porfolio to whet your appetite. Happy reading!
Chemical formation of soft metal electrodes for flexible and wearable electronics
Dongrui Wang, Yaokang Zhang, Xi Lu, Zhijun Ma, Chuan Xie and Zijian Zheng
Chem. Soc. Rev., 2018, 47, 4611-4641
Omnipotent phosphorene: a next-generation, two-dimensional nanoplatform for multidisciplinary biomedical applications
Meng Qiu, Wen Xiu Ren, Taeho Jeong, Miae Won, Geun Young Park, David Kipkemoi Sang, Li-Ping Liu, Han Zhang and Jong Seung Kim
Chem. Soc. Rev., 2018, 47, 5588-5601
Towards scanning probe lithography-based 4D nanoprinting by advancing surface chemistry, nanopatterning strategies, and characterization protocols
Xiaoming Liu, Carlos Carbonell and Adam B. Braunschweig
Chem. Soc. Rev., 2016, 45, 6289-6310
Towards dial-a-molecule by integrating continuous flow, analytics and self-optimisation
Victor Sans and Leroy Cronin
Chem. Soc. Rev., 2016, 45, 2032-2043
Open Access
Biodegradable poly(amidoamine)s with uniform degradation fragments via sequence-controlled macromonomers
F. Ebbesen, C. Gerke, P. Hartwig and L. Hartmann
Polym. Chem., 2016, 7, 7086-7093
Open Access
Hierarchical supramolecular hydrogels: self-assembly by peptides and photo-controlled release via host–guest interaction
Chih-Wei Chu and Bart Jan Ravoo
Chem. Commun., 2017, 53, 12450-12453
Open Access
Controlling destructive quantum interference in tunneling junctions comprising self-assembled monolayers via bond topology and functional groups
Yanxi Zhang, Gang Ye, Saurabh Soni, Xinkai Qiu, Theodorus L. Krijger, Harry T. Jonkman, Marco Carlotti, Eric Sauter, Michael Zharnikov and Ryan C. Chiechi
Chem. Sci., 2018, 9, 4414-4423
The upcoming 3D-printing revolution in microfluidics
Nirveek Bhattacharjee, Arturo Urrios, Shawn Kang and Albert Folch
Lab Chip, 2016, 16, 1720-1742
Nanopatterned polymer brushes: conformation, fabrication and applications
Qian Yu, Linnea K. Ista, Renpeng Gu, Stefan Zauscher and Gabriel P. López
Nanoscale, 2016, 8, 680-700
Glycopolymer monoliths for affinity bioseparation of proteins in a continuous-flow system: glycomonoliths
Hirokazu Seto, Makoto Shibuya, Hikaru Matsumoto, Yu Hoshino and Yoshiko Miura
J. Mater. Chem. B, 2017, 5, 1148-1154
A toolbox approach for multivalent presentation of ligand–receptor recognition on a supramolecular scaffold
Svenja Ehrmann, Chih-Wei Chu, Shalini Kumari, Kim Silberreis, Christoph Böttcher, Jens Dernedde, Bart Jan Ravoo and Rainer Haag
J. Mater. Chem. B, 2018, 6, 4216-4222
The anti-adhesive effect of glycoclusters on Pseudomonas aeruginosa bacteria adhesion to epithelial cells studied by AFM single cell force spectroscopy
Francesca Zuttion, Caroline Ligeour, Olivier Vidal, Mike Wälte, François Morvan, Sébastien Vidal, Jean-Jacques Vasseur, Yann Chevolot, Magali Phaner-Goutorbe and Hermann Schillers
Nanoscale, 2018, 10, 12771-12778
Pushing the limits of automated glycan assembly: synthesis of a 50mer polymannoside
Naresh, F. Schumacher, H. S. Hahm and P. H. Seeberger
Chem. Commun., 2017, 53, 9085-9088
Friction and work function oscillatory behavior for an even and odd number of layers in polycrystalline MoS2
Francesco Lavini, Annalisa Calò, Yang Gao, Edoardo Albisetti, Tai-De Li, Tengfei Cao, Guoqing Li, Linyou Cao, Carmela Aruta and Elisa Riedo
Nanoscale, 2018, 10, 8304-8312
Supramolecular assembly of fluorogenic glyco-dots from perylenediimide-based glycoclusters for targeted imaging of cancer cells
Ying Liu, Ding-Kun Ji, Lei Dong, Nicolas Galanos, Yi Zang, Jia Li, Sébastien Vidal and Xiao-Peng He
Chem. Commun., 2017, 53, 11937-11940