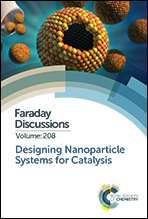 We are delighted to announce that the latest volume of Faraday Discussions on Designing nanoparticle systems for catalysis has now been published online. The volume includes the paper presented in London, UK in May 2018 alongside a record of all the discussions, questions and comments from the delegates at the meeting.
Highlights include:
Supported cluster catalysts synthesized to be small, simple, selective, and stable
Erjia Guan, Chia-Yu Fang, Dong Yang, Liang Wang, Feng-Shou Xiao and Bruce C. Gates
Faraday Discuss., 2018, 208, 9-33
Perspectives on the design of nanoparticle systems for catalysis
Cynthia M. Friend and Fang Xu
Faraday Discuss., 2018, 208, 595-607
One pot microwave synthesis of highly stable AuPd@Pd supported core–shell nanoparticles
Alexander G. R. Howe, Peter J. Miedziak, David J. Morgan, Qian He, Peter Strasser and Jennifer K. Edwards
Faraday Discuss., 2018, 208, 409-425
Open Access
Continuous synthesis of hollow silver–palladium nanoparticles for catalytic applications
Ke-Jun Wu, Yunhu Gao and Laura Torrente-Murciano
Faraday Discuss., 2018, 208, 427-441
We hope you enjoy reading the articles. Why not join us for one of our upcoming Faraday Discussions and get involved yourself!