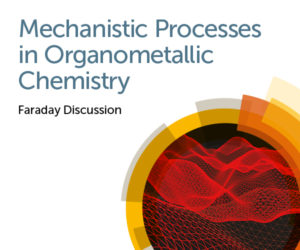 We are looking forward to our Faraday Discussions meeting on Mechanistic processes in organometallic chemistry in York, UK from 2–4 September 2019.
We'll be discussing current understanding of unusual element-element bond formation and activation, physical methods & computational approaches for mechanistic understanding, plus mechanistic insight into organic and industrial transformations.
The oral abstract deadline is approaching! Submit your abstract by 17 October for the opportunity to discuss your work with an excellent line-up of speakers including Odile Eisenstein, Thomas Braun, Jeremy Harvey, Aiwen Lei, Guy Lloyd-Jones, Jennifer Love and more.
To get you in the mood, we encourage you to read some of the excellent related reviews and original research recently published in a range of Royal Society of Chemistry journals. Several are free to access – enjoy!
Access to the meta position of arenes through transition metal catalysed C–H bond functionalisation: a focus on metals other than palladium
Madalina T. Mihai, Georgi R. Genov and Robert J. Phipps
Chem. Soc. Rev., 2018, 47, 149-171
Open Access
A lesson for site-selective C–H functionalization on 2-pyridones: radical, organometallic, directing group and steric controls
Koji Hirano and Masahiro Miura
Chem. Sci., 2018, 9, 22-32
Open Access
Metal alkyls programmed to generate metal alkylidenes by α-H abstraction: prognosis from NMR chemical shift
Christopher P. Gordon, Keishi Yamamoto, Keith Searles, Satoru Shirase, Richard A. Andersen, Odile Eisenstein and Christophe Copéret
Chem. Sci., 2018, 9, 1912-1918
Quantitative DFT modeling of product concentration in organometallic reactions: Cu-mediated pentafluoroethylation of benzoic acid chlorides as a case study
Jesús Jover
Phys. Chem. Chem. Phys., 2017, 19, 29344-29353
N– and S-donor leaving groups in triazole-based ruthena(II)cycles: potent anticancer activity, selective activation, and mode of action studies
Christoph A. Riedl, Michaela Hejl, Matthias H. M. Klose, Alexander Roller, Michael A. Jakupec, Wolfgang Kandioller and Bernhard K. Keppler
Dalton Trans., 2018, 47, 4625-4638
Open Access
New activation mechanism for half-sandwich organometallic anticancer complexes
Samya Banerjee, Joan J. Soldevila-Barreda, Juliusz A. Wolny, Christopher A. Wootton, Abraha Habtemariam, Isolda Romero-Canelón, Feng Chen, Guy J. Clarkson, Ivan Prokes, Lijiang Song, Peter B. O'Connor, Volker Schünemann and Peter J. Sadler
Chem. Sci., 2018, 9, 3177-3185
Open Access
Selective oxymetalation of terminal alkynes via 6-endo cyclization: mechanistic investigation and application to the efficient synthesis of 4-substituted isocoumarins
Yuji Kita, Tetsuji Yata, Yoshihiro Nishimoto, Kouji Chiba and Makoto Yasuda
Chem. Sci., 2018,9, 6041-6052
Selective formation of phthalimides from amines, aldehydes and CO by Pd-catalyzed oxidative C–H aminocarbonylation
Renyi Shi, Fan Liao, Huiying Niu and Aiwen Lei
Org. Chem. Front., 2018, 5, 1957-1961
Significant effects of counteranions on the anticancer activity of iridium(III) complexes
Hairong Zhang, Lihua Guo, Zhenzhen Tian, Meng Tian, Shumiao Zhang, Zhishan Xu, Peiwei Gong, Xiaofeng Zheng, Jia Zhao and Zhe Liu
Chem. Commun., 2018, 54, 4421-4424
Open Access
Dehydrogenative coupling of 4-substituted pyridines mediated by a zirconium(II) synthon: reaction pathways and dead ends
Lukas S. Merz, Hubert Wadepohl, Eric Clot and Lutz H. Gade
Chem. Sci., 2018, 9, 5223-5232
Reactivity of N-heterocyclic carbene–pyridine palladacyclopentadiene complexes toward halogen addition. The unpredictable course of the reaction
Fabiano Visentin, Claudio Santo, Thomas Scattolin, Nicola Demitri and Luciano Canovese
Dalton Trans., 2017, 46, 10399-10407
Open Access
Quantum chemical calculation of electron ionization mass spectra for general organic and inorganic molecules
Vilhjálmur Ásgeirsson, Christoph A. Bauer and Stefan Grimme
Chem. Sci., 2017, 8, 4879-4895
Open Access
An automated method to find reaction mechanisms and solve the kinetics in organometallic catalysis
A. Varela, S. A. Vázquez and E. Martínez-Núñez
Chem. Sci., 2017, 8, 3843-3851
Tuning the Lewis acidity of difluorido gold(III) complexes: the synthesis of [AuClF2(SIMes)] and [AuF2(OTeF5)(SIMes)]
Mathias A. Ellwanger, Clara von Randow, Simon Steinhauer, Yunfei Zhou, Anja Wiesner, Helmut Beckers, Thomas Braun and Sebastian Riedel
Chem. Commun., 2018, 54, 9301-9304