Quantum effects in small molecular systems
10 – 12 September 2018, Edinburgh, UK
Register by 20 August to secure your place and join the discussion
With something to appeal to researchers working on both isolated and confined molecular systems, we'll be discussing some fundamental physical chemistry. Nonetheless the impacts are tangible in atmospheric chemistry, biology, physics, and astrophysics and astrochemistry.
We look forward to hearing from world leading researchers including:
Sir David Clary (University of Oxford)
Ad van der Avoird (Radboud University Nijmegen)
Joel Bowman (Emory University)
Steve Bradforth (University of Southern California)
Stephen R. Leone (University of California, Berkeley and Berkeley Lab)
Anne B. McCoy (University of Washington)
Petr Slavíček (University of Chemistry and Technology Prague)
Thierry Stoecklin (Université de Bordeaux)
Anne Zehnacker-Rentien (Université Paris Sud)
Don't forget that every delegate has the opportunity to participate, with a record of the comments and discussions in the associated volume of Faraday Discussions.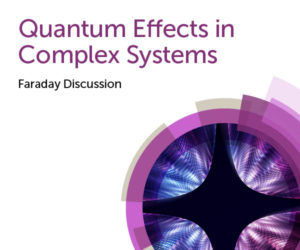 Save the date: Quantum effects in complex systems
1 – 13 September 2019, Coventry, UK
With the rapid rate of development and broad application domains, the principal aim of this Faraday Discussion is to provide a snapshot of the current theoretical and experimental state-of-the-art in methods designed to interrogate and rationalize the role of quantum-mechanical effects in complex systems; simultaneously, this meeting will act as a new forum to discuss ideas which span the experimental/theoretical domains.
Submit an oral/paper abstract by 19 December 2018 if you wish to be considered for an oral presentation and associated published paper (submission opening soon).
For more information about the unique format of Faraday Discussions check out our FAQs page.