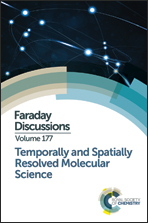 Read on to find out which Faraday Discussions articles your colleagues were downloading between January and March 2015!
AuAg bimetallic nanoparticles: formation, silica-coating and selective etching
Benito Rodríguez-González, Ana Sánchez-Iglesias, Michael Giersig and Luis M. Liz-Marzán
DOI: 10.1039/B303205A
In situ Raman study of lithium-ion intercalation into microcrystalline graphite
Christopher Sole, Nicholas E. Drewett and Laurence J. Hardwick
DOI: 10.1039/C4FD00079J
Hydrogen evolution on nano-particulate transition metal sulfides
Jacob Bonde, Poul G. Moses, Thomas F. Jaramillo, Jens K. Nørskov and Ib Chorkendorff
DOI: 10.1039/B803857K
Control parameters for electrochemically relevant materials: the significance of size and complexity
J. Maier
DOI: 10.1039/C4FD00135D
Systems materials engineering approach for solar-to-chemical conversion
Chong Liu and Peidong Yang
DOI: 10.1039/C4FD00264D
Inkjet printing of graphene
Kirill Arapov, Robert Abbel, Gijsbertus de With and Heiner Friedrich
DOI: 10.1039/C4FD00067F
Imaging molecular structure through femtosecond photoelectron diffraction on aligned and oriented gas-phase molecules
Rebecca Boll, Arnaud Rouzée, Marcus Adolph, Denis Anielski, Andrew Aquila, Sadia Bari, Cédric Bomme, Christoph Bostedt, John D. Bozek, Henry N. Chapman, Lauge Christensen, Ryan Coffee, Niccola Coppola, Sankar De, Piero Decleva, Sascha W. Epp, Benjamin Erk, Frank Filsinger, Lutz Foucar, Tais Gorkhover, Lars Gumprecht, André Hömke, Lotte Holmegaard, Per Johnsson, Jens S. Kienitz, Thomas Kierspel, Faton Krasniqi, Kai-Uwe Kühnel, Jochen Maurer, Marc Messerschmidt, Robert Moshammer, Nele L. M. Müller, Benedikt Rudek, Evgeny Savelyev, Ilme Schlichting, Carlo Schmidt, Frank Scholz, Sebastian Schorb, Joachim Schulz, Jörn Seltmann, Mauro Stener, Stephan Stern, Simone Techert, Jan Thøgersen, Sebastian Trippel, Jens Viefhaus, Marc Vrakking, Henrik Stapelfeldt, Jochen Küpper, Joachim Ullrich, Artem Rudenko and Daniel Rolles
DOI: 10.1039/C4FD00037D
Effects of structural disorder and surface chemistry on electric conductivity and capacitance of porous carbon electrodes
Boris Dyatkin and Yury Gogotsi
DOI: 10.1039/C4FD00048J
Methodologies for the analysis of instantaneous lipid diffusion in md simulations of large membrane systems
Matthieu Chavent, Tyler Reddy, Joseph Goose, Anna Caroline E. Dahl, John E. Stone, Bruno Jobard and Mark S. P. Sansom
DOI: 10.1039/C3FD00145H
Importance of many-body orientational correlations in the physical description of liquids
Hajime Tanaka
DOI: 10.1039/C3FD00110E
Enhanced oxygen evolution activity by NiOx and Ni(OH)2 nanoparticles
Lucas-Alexandre Stern and Xile Hu
DOI: 10.1039/C4FD00120F
Comparison of photoelectrochemical water oxidation activity of a synthetic photocatalyst system with photosystem II
Yi-Hsuan Lai, Masaru Kato, Dirk Mersch and Erwin Reisner
DOI: 10.1039/C4FD00059E
Characterization and simulation of electrolyte-gated organic field-effect transistors
Katharina Melzer, Marcel Brändlein, Bogdan Popescu, Dan Popescu, Paolo Lugli and Giuseppe Scarpa
DOI: 10.1039/C4FD00095A
Signal to noise considerations for single crystal femtosecond time resolved crystallography of the Photoactive Yellow Protein
Jasper J. van Thor, Mark M. Warren, Craig N. Lincoln, Matthieu Chollet, Henrik Till Lemke, David M. Fritz, Marius Schmidt, Jason Tenboer, Zhong Ren, Vukica Srajer, Keith Moffat and Tim Graber
DOI: 10.1039/C4FD00011K
Electrochemical conversion and storage systems: general discussion
Andrew Mount, Shizhao Xiong, Xuyi Shan, Hyun-Wook Lee, Xiaoliang Yu, Yimin Chao, Galen Stucky, Gang Chen, Zhen Qi, Graham Hutchings, Yiren Zhong, Rudolf Holze, Wei Han, Lee Cronin, Shihe Yang, Hong Li, Xiang Hong, Erwin Reisner, Yong Yang, Weimin Xuan, Clare Grey, Ram Seshadri, Liqiang Mai, Jiafang Xie, Fuping Pan, Zhonghua Li, Joachim Maier, Zhongqun Tian, Yanxia Chen, Bingwei Mao, Heinz Frei, Changxu Lin, Fenglin Liao, Deyu Liu, Nanfeng Zheng, Rui Lin, Rose-Noelle Vannier, Dehui Deng, John M. Griffin, Nenad Markovic, Haimei Zheng and Ryoji Kanno
DOI: 10.1039/C5FD90001H
A GPU-accelerated immersive audio-visual framework for interaction with molecular dynamics using consumer depth sensors
David R. Glowacki, Michael O'Connor, Gaetano Calabró, James Price, Philip Tew, Thomas Mitchell, Joseph Hyde, David P. Tew, David J. Coughtrie and Simon McIntosh-Smith
DOI: 10.1039/C4FD00008K
Surface enhanced Raman spectroscopy: new materials, concepts, characterization tools, and applications
Jon A. Dieringer, Adam D. McFarland, Nilam C. Shah, Douglas A. Stuart, Alyson V. Whitney, Chanda R. Yonzon, Matthew A. Young, Xiaoyu Zhang and Richard P. Van Duyne
DOI: 10.1039/B513431P
Electrochemical characterisation of graphene nanoflakes with functionalised edges
Mailis M. Lounasvuori, Martin Rosillo-Lopez, Christoph G. Salzmann, Daren J. Caruana and Katherine B. Holt
DOI: 10.1039/C4FD00034J
Nanodiamond surface redox chemistry: influence of physicochemical properties on catalytic processes
Thomas S. Varley, Meetal Hirani, George Harrison and Katherine B. Holt
DOI: 10.1039/C4FD00041B
Oxygen reduction reaction by electrochemically reduced graphene oxide
Santosh Kumar Bikkarolla, Peter Cumpson, Paul Joseph and Pagona Papakonstantinou
DOI: 10.1039/C4FD00088A
---
Faraday Discussions is both a conference series and a journal. The papers and a record of the discussion are published in the journal; covers rapidly developing areas of chemistry and its interfaces with other scientific disciplines.
Get involved: join us at a future Faraday Discussions meeting!