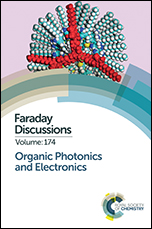 Read on to find out which Faraday Discussions articles your colleagues were downloading most between October and December 2014.
Not familiar with the unique formation of Faraday Discussions? Check out our FAQs to find out more.
Following the formation of nanometer-sized clusters by time-resolved SAXS and EXAFS techniques
Florian Meneau, Gopinathan Sankar, Norberto Morgante, Rudolf Winter, C. Richard A. Catlow, G. Neville Greaves and John Meurig Thomas
Faraday Discuss., 2003, 122, 203-210
DOI: 10.1039/B203142F

Spontaneous tubulation of membranes and vesicles reveals membrane tension generated by spontaneous curvature
Reinhard Lipowsky
Faraday Discuss., 2013, 161, 305-331
DOI: 10.1039/C2FD20105D
Hydrogen evolution on nano-particulate transition metal sulfides
Jacob Bonde, Poul G. Moses, Thomas F. Jaramillo, Jens K. Nørskov and Ib Chorkendorff
Faraday Discuss., 2009, 140, 219-231
DOI: 10.1039/B803857K
In situ Raman study of lithium-ion intercalation into microcrystalline graphite
Christopher Sole, Nicholas E. Drewett and Laurence J. Hardwick
Faraday Discuss., 2014, 172, 223-237
DOI: 10.1039/C4FD00079J
Dynamics in next-generation solar cells: time-resolved surface photovoltage measurements of quantum dots chemically linked to ZnO (10 0)
Ben F. Spencer, Matthew J. Cliffe, Darren M. Graham, Samantha J. O. Hardman, Elaine A. Seddon, Karen L. Syres, Andrew G. Thomas, Fausto Sirotti, Mathieu G. Silly, Javeed Akhtar, Paul O'Brien, Simon M. Fairclough, Jason M. Smith, Swapan Chattopadhyay and Wendy R. Flavell
Faraday Discuss., 2014, 171, 275-298
DOI: 10.1039/C4FD00019F
Molecular simulations and visualization: introduction and overview
Jonathan D. Hirst, David R. Glowacki and Marc Baaden
Faraday Discuss., 2014, 169, 9-22
DOI: 10.1039/C4FD90024C
Imaging molecular structure through femtosecond photoelectron diffraction on aligned and oriented gas-phase molecules
Rebecca Boll, Arnaud Rouzée, Marcus Adolph, Denis Anielski, Andrew Aquila, Sadia Bari, Cédric Bomme, Christoph Bostedt, John D. Bozek, Henry N. Chapman, Lauge Christensen, Ryan Coffee, Niccola Coppola, Sankar De, Piero Decleva, Sascha W. Epp, Benjamin Erk, Frank Filsinger, Lutz Foucar, Tais Gorkhover, Lars Gumprecht, André Hömke, Lotte Holmegaard, Per Johnsson, Jens S. Kienitz, Thomas Kierspel, Faton Krasniqi, Kai-Uwe Kühnel, Jochen Maurer, Marc Messerschmidt, Robert Moshammer, Nele L. M. Müller, Benedikt Rudek, Evgeny Savelyev, Ilme Schlichting, Carlo Schmidt, Frank Scholz, Sebastian Schorb, Joachim Schulz, Jörn Seltmann, Mauro Stener, Stephan Stern, Simone Techert, Jan Thøgersen, Sebastian Trippel, Jens Viefhaus, Marc Vrakking, Henrik Stapelfeldt, Jochen Küpper, Joachim Ullrich, Artem Rudenko and Daniel Rolles
Faraday Discuss., 2014, 171, 57-80
DOI: 10.1039/C4FD00037D
Oxygen reduction reaction by electrochemically reduced graphene oxide
Santosh Kumar Bikkarolla, Peter Cumpson, Paul Joseph and Pagona Papakonstantinou
Faraday Discuss., 2014, 173, 415-428
DOI: 10.1039/C4FD00088A
Inkjet printing of graphene
Kirill Arapov, Robert Abbel, Gijsbertus de With and Heiner Friedrich
Faraday Discuss., 2014, 173, 323-336
DOI: 10.1039/C4FD00067F
Surface enhanced Raman spectroscopy: new materials, concepts, characterization tools, and applications
Jon A. Dieringer, Adam D. McFarland, Nilam C. Shah, Douglas A. Stuart, Alyson V. Whitney, Chanda R. Yonzon, Matthew A. Young, Xiaoyu Zhang and Richard P. Van Duyne
Faraday Discuss., 2006, 132, 9-26
DOI: 10.1039/B513431P
Advances of carbon nanomaterials
Lulu Ma, Amelia H. C. Hart, Sehmus Ozden, Robert Vajtai and Pulickel M. Ajayan
Faraday Discuss., 2014, 173, 9-46
DOI: 10.1039/C4FD90039A
Importance of many-body orientational correlations in the physical description of liquids
Hajime Tanaka
Faraday Discuss., 2013, 167, 9-76
DOI: 10.1039/C3FD00110E
Density based visualization for molecular simulation
Dmitri Rozmanov, Svetlana Baoukina and D. Peter Tieleman
Faraday Discuss., 2014, 169, 225-243
DOI: 10.1039/C3FD00124E
Mesoporous perovskite solar cells: material composition, charge-carrier dynamics, and device characteristics
Yixin Zhao, Alexandre M. Nardes and Kai Zhu
Faraday Discuss., 2014, Advance Article
DOI: 10.1039/C4FD00128A
Studying chemical reactivity in a virtual environment
Moritz P. Haag and Markus Reiher
Faraday Discuss., 2014, 169, 89-118
DOI: 10.1039/C4FD00021H
Effects of structural disorder and surface chemistry on electric conductivity and capacitance of porous carbon electrodes
Boris Dyatkin and Yury Gogotsi
Faraday Discuss., 2014, 172, 139-162
DOI: 10.1039/C4FD00048J
Carbon electrodes for energy storage: general discussion
Yury Gogotsi, Dirk Guldi, Richard McCreery, Chi-Chang Hu, Céline Merlet, François Béguin, Laurence Hardwick, Elzbieta Frackowiak, Julie Macpherson, Alexander Forse, George Zheng Chen, Katherine Holt, Robert Dryfe, Heisi Kurig, Surbhi Sharma, Patrick R. Unwin, Thomas Rabbow, Wanjing Yu, Fulian Qiu, Fernanda Juarez, Christopher Sole, Boris Dyatkin, Keith Stevenson, Yong Cao, Nico Cousens and Asa Noofeli
Faraday Discuss., 2014, 172, 239-260
DOI: 10.1039/C4FD90026J
Redox-active electrolyte for supercapacitor application
Elzbieta Frackowiak, Mikolaj Meller, Jakub Menzel, Dominika Gastol and Krzysztof Fic
Faraday Discuss., 2014, 172, 179-198
DOI: 10.1039/C4FD00052H
Electrochemical characterisation of graphene nanoflakes with functionalised edges
Mailis M. Lounasvuori, Martin Rosillo-Lopez, Christoph G. Salzmann, Daren J. Caruana and Katherine B. Holt
Faraday Discuss., 2014, 172, 293-310
DOI: 10.1039/C4FD00034J
Methodologies for the analysis of instantaneous lipid diffusion in md simulations of large membrane systems
Matthieu Chavent, Tyler Reddy, Joseph Goose, Anna Caroline E. Dahl, John E. Stone, Bruno Jobard and Mark S. P. Sansom
Faraday Discuss., 2014, 169, 455-475
DOI: 10.1039/C3FD00145H
Mechanochemistry, a versatile synthesis strategy for new materials
William Jones and Mark D. Eddleston
Faraday Discuss., 2014, 170, 9-34
DOI: 10.1039/C4FD00162A
Read on to find out which Faraday Discussions articles your colleagues were downloading most between October and December 2014
Organic electronics: an organic materials perspective
Fred Wudl
Faraday Discuss., 2014, 174, 9-20
DOI: 10.1039/C4FD00191E
Rigid biimidazole ancillary ligands as an avenue to bright deep blue cationic iridium(III) complexes
Adam F. Henwood, Sloane Evariste, Alexandra M. Z. Slawin and Eli Zysman-Colman
Faraday Discuss., 2014, 174, 165-182
DOI: 10.1039/C4FD00107A
Chemical reaction dynamics I and electron dynamics in molecules: general discussion
Oriol Vendrell, Jochen Küpper, Martin Wolf, Henry Chapman, Majed Chergui, Katharine Reid, Klaus von Haeften, Robert Moshammer, Gwyn Williams, Andres Tehlar, Gopal Dixit, Hans Jakob Wörner, Jonathan Underwood, Jonathan Marangos, Michael Woerner, Christian Bressler, Michael Minitti, Adam Kirrander, Caterina Vozzi and Daniel Rolles
Faraday Discuss., 2014, 171, 145-168
DOI: 10.1039/C4FD90014F
We have got lots of great meetings planned for 2015 and 2016 – we hope you can join us!