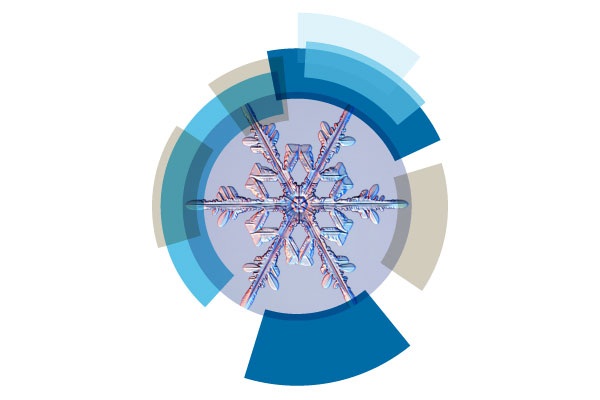 We are delighted to highlight some excellent research recently published in a range of Royal Society of Chemistry journals on a theme of nucleation and its role in directing the assembly of materials.
Nucleation – A Transition State to the Directed Assembly of Materials is also the topic of a Faraday Discussions meeting taking place in Leeds, UK from 3 March – 1 April 2015.
Find out more about the meeting on our website and then submit your oral abstract via our submission system today. The deadline is 30 June 2014.
You can also find more details about what makes Faraday Discussions different from other meetings.
We hope you enjoy the following selection of reviews and original research:
Crystallising trimesic acid from DMSO solutions – can crystallography teach us anything about the process of crystal nucleation?
Roger J. Davey, Monika Brychczynska, Ghazala Sadiq, Geoffrey Dent and Robin G. Pritchard
CrystEngComm, 2013,15, 856-859
DOI: 10.1039/C2CE26712H
Ionic co-crystals of racetams: solid-state properties enhancement of neutral active pharmaceutical ingredients via addition of Mg2+ and Ca2+ chlorides
Fabrizia Grepioni, Johan Wouters, Dario Braga, Saverio Nanna, Baptiste Fours, Gérard Coquerel, Geraldine Longfils, Sandrine Rome, Luc Aerts and Luc Quéré
CrystEngComm, 2014, Advance Article
DOI: 10.1039/C4CE00409D
Pre-nucleation clusters as solute precursors in crystallisation
Denis Gebauer, Matthias Kellermeier, Julian D. Gale, Lennart Bergström and Helmut Cölfen
Chem. Soc. Rev., 2014, 43, 2348-2371
DOI: 10.1039/C3CS60451A
Investigating the dissolution of the metastable triclinic polymorph of carbamazepine using in situ microscopy
M. O'Mahony, C. C. Seaton, D. M. Croker, S. Veesler, Å. C. Rasmuson and B. K. Hodnett
CrystEngComm, 2014, 16, 4133-4141
DOI: 10.1039/C4CE00062E
Crystallization under nanoscale confinement
Qi Jiang and Michael D. Ward
Chem. Soc. Rev., 2014, 43, 2066-2079
DOI: 10.1039/C3CS60234F
Phase transformations in nanograin materials under high pressure and plastic shear: nanoscale mechanisms
Valery I. Levitas and Mahdi Javanbakht
Nanoscale, 2014, 6, 162-166
DOI: 10.1039/C3NR05044K
Crystallization of molecular systems from solution: phase diagrams, supersaturation and other basic concepts
Gérard Coquerel
Chem. Soc. Rev., 2014, 43, 2286-2300
DOI: 10.1039/C3CS60359H
Two-step crystal nucleation via capillary condensation
Hugo K. Christenson
CrystEngComm, 2013, 15, 2030-2039
DOI: 10.1039/C3CE26887J
Concomitant cocrystallization on engineered surfaces
Xingyi Shi, Shin Yee Wong, Xiaochuan Yang and Allan S. Myerson
CrystEngComm, 2013, 15, 7450-7455
DOI: 10.1039/C3CE40899J
Corresponding states for mesostructure and dynamics of supercooled water
David T. Limmer and David Chandler
Faraday Discuss., 2013, 167, 485-498
DOI: 10.1039/C3FD00076A
See also related General Discussion

Seed-mediated growth of noble metal nanocrystals: crystal growth and shape control
Wenxin Niu, Ling Zhang and Guobao Xu
Nanoscale, 2013, 5, 3172-3181
DOI: 10.1039/C3NR00219E
Inhibition of ice nucleation by slippery liquid-infused porous surfaces (SLIPS)
Peter W. Wilson, Weizhe Lu, Haojun Xu, Philseok Kim, Michael J. Kreder, Jack Alvarenga and Joanna Aizenberg
Phys. Chem. Chem. Phys., 2013, 15, 581-585
DOI: 10.1039/C2CP43586A
Solution mediated phase transformations between co-crystals
Denise M. Croker, Roger J. Davey, Åke C. Rasmuson and Colin C. Seaton
CrystEngComm, 2013, 15, 2044-2047
DOI: 10.1039/C2CE26801A
A metastable liquid precursor phase of calcium carbonate and its interactions with polyaspartate
Mark A. Bewernitz, Denis Gebauer, Joanna Long, Helmut Cölfen and Laurie B. Gower
Faraday Discuss., 2012, 159, 291-312
DOI: 10.1039/C2FD20080E
See also the related General Discussion
Isonicotinamide self-association: the link between solvent and polymorph nucleation
Samir A. Kulkarni, E. S. McGarrity, Hugo Meekes and Joop H. ter Horst
Chem. Commun., 2012, 48, 4983-4985
DOI: 10.1039/C2CC18025A
Plate-like SnS2 nanostructures: Hydrothermal preparation, growth mechanism and excellent electrochemical properties
Jianmin Ma, Danni Lei, Lin Mei, Xiaochuan Duan, Qiuhong Li, Taihong Wang and Wenjun Zheng
CrystEngComm, 2012, 14, 832-836
DOI: 10.1039/C1CE05831B

Selection mechanism of polymorphs in the crystal nucleation of the Gaussian core model
John Russo and Hajime Tanaka
Soft Matter, 2012, 8, 4206-4215
DOI: 10.1039/C2SM07007

The thermodynamics of calcite nucleation at organic interfaces: Classical vs. non-classical pathways
Q. Hu, M. H. Nielsen, C. L. Freeman, L. M. Hamm, J. Tao, J. R. I. Lee, T. Y. J. Han, U. Becker, J. H. Harding, P. M. Dove and J. J. De Yoreo
Faraday Discuss., 2012, 159, 509-523
DOI: 10.1039/C2FD20124K
You may also find these themed collections of interest:
We hope that you will join us for Nucleation – A Transition State to the Directed Assembly of Materials. Professor Kevin Roberts and the rest of the Scientific Committee look forward to welcoming you and your colleagues to Leeds.