We are delighted to welcome Professor Qin Wang, University of Maryland, USA, as an Associate Editor for Sustainable Food Technology, a new open access journal publishing high-quality sustainable research on food engineering and technologies.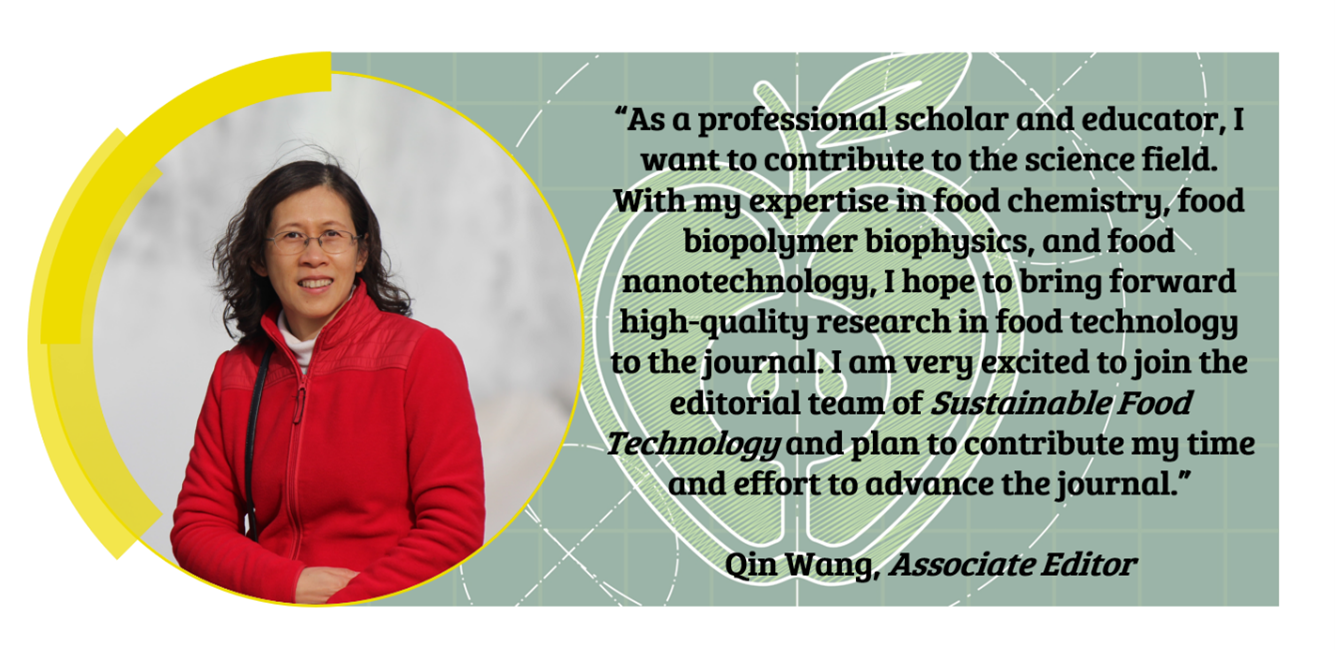 Learn more about our new Associate Editor
Dr. Qin Wang is a Professor in the Department of Nutrition and Food Science at the University of Maryland (UMD). Dr. Wang joined the UMD in 2008 after she completed a 3-year post-doctoral study at the University of Illinois at Urbana-Champaign, where she got her Ph.D. degree in Food Science in 2004.
Her key research efforts have been applied in three directions: food nanotechnology, food protein modification, and safety and quality improvement of food products. Specifically, Dr. Wang's research group uses food chemistry, food biophysics, material science and nanotechnology approaches to investigate structure-function relationships of food proteins and polysaccharides with the ultimate goal of improving food safety and quality. Various nanostructures, including nanoparticles, nanoemulsions and nanolaminates have been made with applications including nutraceutical encapsulation and targeted delivery, antimicrobial packaging materials, food pathogen detection, and edible coatings. Dr. Wang has published more than 120 peer-reviewed journal papers and edited one book titled: Nanotechnology Research Methods for Foods and Bioproducts.
Read some of her recent papers below:
Isolation, identification and characterization of taste peptides from fermented broad bean paste
Jianhua Zhao, Shiqi Liao, Xiaopeng Bi, Jie Zhao, Ping Liu, Wenwu Ding, Zhenming Che, Qin Wang and Hongbin Lin
Food Funct., 2022, 13, 8730-8740
Beta-lactoglobulin-based encapsulating systems as emerging bioavailability enhancers for nutraceuticals: a review
Zi Teng, Ruoyang Xu and Qin Wang
RSC Adv., 2015, 5, 35138-35154
Sustainable Food Technology is open for submissions. Find out more on the journal webpage, sign up for email alerts or submit your manuscript now.
Please join us in welcoming Professor Wang to Sustainable Food Technology.