Open to everyone. Impactful for all: our first issue is available to explore
How do we discover new energy and environmental catalysis solutions? Handpicked by our editors, the first issue of EES Catalysis, our new, gold open access journal, showcases high-quality research on energy and environmental catalysis. Read issue 1 now.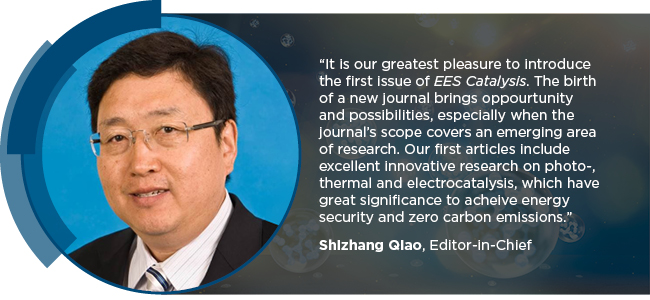 Issue 1 includes:
Shizhang Qiao
EES Catal. 2023, 1, 7-8, DOI: 10.1039/D2EY90001G
Ultra-high-rate CO2 reduction reactions to multicarbon products with a current density of 1.7 A cm-2 in neutral electrolytes
Asato Inoue, Takashi Harada, Shuji Nakanishi, Kazuhide Kamiya
EES Catal. 2023, 1, 9-16, DOI: 10.1039/D2EY00035K
Descriptor-based identification of bimetallic-derived catalysts for selective oxidation of ethane with CO2
Haoyue Guo, Zhenhua Xie, Xuelong Wang, Jingguang G. Chen, Ping Liu
EES Catal. 2023, 1, 17-25, DOI: 10.1039/D2EY00051B
Zr-doped BaTaO2N photocatalyst modified with Na-Pt cocatalyst for efficient hydrogen evolution and Z-scheme water splitting
Huihui Li, Junie Jhon M. Vequizo, Takashi Hisatomi, Mamiko Nakabayashi, Jiadong Xiao, Xiaoping Tao, Zhenhua Pang, Wenping Li, Shanshan Chen, Zheng Wang, Naoya Shibata, Akira Yamakata, Tsuyoshi Takata, Kazunari Domen
EES Catal. 2023, 1, 26-35, DOI: 10.1039/D2EY00031H
Pit-embellished low-valent metal active sites customise CO2 photoreduction to methanol
Wei Zhao, Miao Ding, Pengxin Yang, Qiang Wang, Kaifu Zhang, Xiaowen Zhan, Yu Yu, Qiquan Luo, Shan Gao, Jinlong Yang, Yi Xie
EES Catal. 2023, 1, 36-44, DOI: 10.1039/D2EY00029F
High-efficiency electrosynthesis of urea over bacterial cellulose regulated Pd-Cu bimetallic catalyst
Shengbo Zhang, Jing Geng, Zhong Zhao, Meng Jin, Wenyi Li, Yixing Ye, Ke Li, Guozhong Wang, Yunxia Zhang, Huajie Yin, Haimin Zhang, Huijun Zhao
EES Catal. 2023, 1, 45-53, DOI: 10.1039/D2EY00038E
Direct carbonate electrolysis into pure syngas
Yurou Celine Xiao, Christine M. Gabardo, Shijie Liu, Geonhui Lee, Yong Zhao, Colin P. O'Brien, Rui Kai Miao, Yi Xu, Jonathan P. Edwards, Mengyang Fan, Jianan Erick Huang, Jun Li, Panagiotis Papangelakis, Tartela Alkayyali, Armin Sedighian Rasouli, Jinqiang Zhang, Edward H. Sargent, David Sinton
EES Catal. 2023, 1, 54-61, DOI: 10.1039/D2EY00046F
Fe-N/C catalysts with tunable mesoporous structures and carbon layer numbers reveal the role of interlayer CO2 activation
Jinwoo Woo, June Sing Lim, Taejung Lim, Du San Baek, Jae Hyung Kim, Jong Hoon Lee, Hu Young Jeong, Chang Hyuck Choi, Sang Hoon Joo
EES Catal. 2023, 1, 62-73, DOI: 10.1039/D2EY00055E
Effect of charge selective contacts on the quai Fermi level splitting of CuGa3Se5 thin film photocathodes for hydrogen evolution and methylviologen reduction
Ye Cheng, Chengcan Xiao, Behzad Mahmoudi, Roland Scheer, A. Wouter Maijenburg, Frank E. Osterloh
EES Catal. 2023, 1, 74-83, DOI: 10.1039/D2EY00062H
Boosting the activity of PdAg alloy nanoparticles during H2 production from formic acid induced by CrOx as an inorganic interface modifier
Kohsuke Mori, Tatsuya Fujita, Hiromi Yamashita
EES Catal. 2023, 1, 84-93, DOI: 10.1039/D2EY00049K
Maximise the visibility of your research by publishing gold open access
All papers published in EES Catalysis will forever be free to read. We are waiving article processing charges (APCs) until mid-2025, so it is currently free to publish in for authors.
Submit your manuscript to EES Catalysis here!