We are delighted to welcome Professor Zhichuan Xu, Nanyang Technological University, Singapore, as an Associate Editor for EES Catalysis, a new open access journal publishing high quality research on energy and environmental catalysis.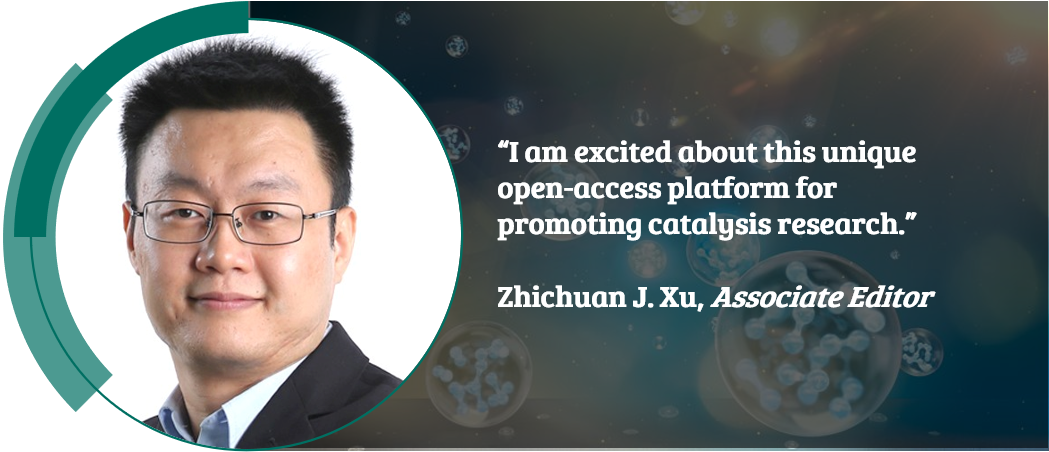 Learn more about our new Associate Editor
Zhichuan is a professor in the School of Materials Science and Engineering, Nanyang Technological University. He received his Ph.D. degree in Electroanalytical Chemistry in 2008 and B.S. degree in Chemistry in 2002 from Lanzhou University, China. His Ph.D. training was received at Lanzhou University (2002-2004), Institute of Physics, CAS (2004-2005), and Brown University (2005-2007). Since 2007, he worked at the State University of New York at Binghamton as a Research Associate and since 2009 he worked at the Massachusetts Institute of Technology as a Postdoctoral Researcher.
His major research interest is electrocatalysis, including catalyst development and fundamental advances. Currently, he serves as the director of the Centre of Advanced Catalysis Science and Technology at Nanyang Technological University. Dr. Xu received the Zhaowu Tian Prize for Energy Electrochemistry from the International Society of Electrochemistry (ISE) in 2019. He is a Fellow of the Royal Society of Chemistry (FRSC) since 2017 and a Highly Cited Researcher by Clarivate Analytics, Web of Science since 2018.
Read some of his recent papers below:
A review on fundamentals for designing oxygen evolution reactions
Jiajia Song, Chao Wei, Zhen-Feng Huang, Chuntai Liu, Lin Zeng, Xin Wang and Zhichuan J. Xu
Chemical Society Reviews, 2020, 49, 2196-2214
Approaches for measuring the surface areas of metal oxide electrocatalysts for determining their intrinsic electrocatalytic activity
Chao Wei, Shengnan Sun, Daniel Mandler, Xun Wang, Shi Zhang Qiao and Zhichuan J. Xu
Chemical Society Reviews, 2019, 48, 2518-2534
EES Catalysis is now open for submissions. Find out more on the journal webpage, sign up to e-Alerts or submit your manuscript now.
Please join us in welcoming Professor Xu to EES Catalysis.