Over the past decade PFAS (per-and polyfluoroalkyl substances) have quickly established themselves as one of the most infamous environmental pollutants. They have featured in a Hollywood film and are regularly reported upon by local and national media outlets. For humans, one of our main concerns is PFAS in our drinking water. This a topic that the RSC have been raising awareness of recently through fundamental research and policy-based workshops.
The world of PFAS is a rapidly evolving field. We are currently debating; what is a PFAS, how many there are, how they behave in the environment, how to measure them, how toxic they are, how to regulate them, and how to remediate them. We have learnt a lot about PFAS over the last decade but for every question we answer, more seem to emerge. Now is a truly exciting and challenging time to be involved in this field of research, and that is set to continue for some time to come.
Within this collection, curated by Dr David Megson (Manchester Metropolitan University, UK) we have highlighted recently published manuscripts in RSC journals that have made a significant contribution to our understanding of PFAS in water.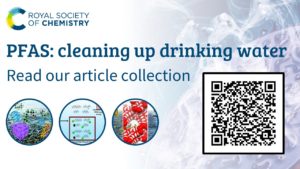 Policy
The case for a more precise definition of regulated PFAS
T. J. Wallington et al., Environ. Sci.: Processes Impacts, 2021,23, 1834-1838
10.1039/D1EM00296A 
Reviews
Reverse osmosis and nanofiltration membranes for highly efficient PFASs removal: overview, challenges and future perspectives
Teresa F. Mastropietro et al., Dalton Trans., 2021,50, 5398-5410
10.1039/D1DT00360G
A review of PFAS fingerprints in fish from Norwegian freshwater bodies subject to different source inputs
Håkon A. Langberg et al., Environ. Sci.: Processes Impacts, 2022,24, 330-342
10.1039/D1EM00408E
PFAS fate and destruction mechanisms during thermal treatment: a comprehensive review
Grace K. Longendyke et al., Environ. Sci.: Processes Impacts, 2022,24, 196-208
10.1039/D1EM00465D
Photo-chemical/catalytic oxidative/reductive decomposition of per- and poly-fluoroalkyl substances (PFAS), decomposition mechanisms and effects of key factors: a review
Ehsan Banayan Esfahani et al., Environ. Sci.: Water Res. Technol., 2022,8, 698-728
10.1039/D1EW00774B
Adsorption as a remediation technology for short-chain per- and polyfluoroalkyl substances (PFAS) from water – a critical review
Hajar Smaili et al., Environ. Sci.: Water Res. Technol., 2023,9, 344-362
10.1039/D2EW00721E
Current progress in the environmental analysis of poly- and perfluoroalkyl substances (PFAS)
Andreas Androulakakis et al., Environ. Sci.: Adv., 2022,1, 705-724
10.1039/D2VA00147K
Measurement
Towards deployable electrochemical sensors for per- and polyfluoroalkyl substances (PFAS)
Rebecca B. Clark and Jeffrey E. Dick, Chem. Commun., 2021,57, 8121-8130
10.1039/D1CC02641K
A graphene-based hydrogel monolith with tailored surface chemistry for PFAS passive sampling
Jitka Becanova and Zachary S. S. L. Saleeba et al., Environ. Sci.: Nano, 2021,8, 2894-2907
10.1039/D1EN00517K
Evaluation, optimization, and application of three independent suspect screening workflows for the characterization of PFASs in water
Paige Jacob et al., Environ. Sci.: Processes Impacts, 2021,23, 1554-1565
10.1039/D1EM00286D
Development of a PFAS reaction library: identifying plausible transformation pathways in environmental and biological systems
Eric J. Weber et al., Environ. Sci.: Processes Impacts, 2022,24, 689-753
10.1039/D1EM00445J
Detection and differentiation of per- and polyfluoroalkyl substances (PFAS) in water using a fluorescent imprint-and-report sensor array
Emily E. Harrison and Marcey L. Waters, Chem. Sci., 2023,14, 928-936
10.1039/D2SC05685B
A field-validated equilibrium passive sampler for the monitoring of per- and polyfluoroalkyl substances (PFAS) in sediment pore water and surface water
Blessing Medon et al., Environ. Sci.: Processes Impacts, 2023,25, 980-995
10.1039/D2EM00483F
Environment
Laboratory validation of an integrative passive sampler for per- and polyfluoroalkyl substances in water
Paul L. Edmiston et al., Environ. Sci.: Water Res. Technol., 2023,9, 1849-1861
10.1039/D3EW00047H
Distribution and fate of per- and polyfluoroalkyl substances (PFAS) in wastewater treatment facilities
Elham Tavasoli et al., Environ. Sci.: Processes Impacts, 2021,23, 903-913
10.1039/D1EM00032B
Surface-water/groundwater boundaries affect seasonal PFAS concentrations and PFAA precursor transformations
Andrea K. Tokranov, Environ. Sci.: Processes Impacts, 2021,23, 1893-1905
10.1039/D1EM00329A
Distributions and sources of traditional and emerging per- and polyfluoroalkyl substances among multiple environmental media in the Qiantang River watershed, China
Zhengzheng Liu et al., RSC Adv., 2022,12, 21247-21254
10.1039/D2RA02385G
Non-targeted identification and semi-quantitation of emerging per- and polyfluoroalkyl substances (PFAS) in US rainwater
Yubin Kim et al., Environ. Sci.: Processes Impacts, 2023,25, 1771-1787
10.1039/D2EM00349J
Pyrolysis transports, and transforms, PFAS from biosolids to py-liquid
Patrick McNamara et al., Environ. Sci.: Water Res. Technol., 2023,9, 386-395
10.1039/D2EW00677D
Remediation
Amyloid fibril-based membranes for PFAS removal from water
Tonghui Jin et al., Environ. Sci.: Water Res. Technol., 2021,7, 1873-1884
10.1039/D1EW00373A
Mechanochemical destruction of per- and polyfluoroalkyl substances in aqueous film-forming foams and contaminated soil
Kapish Gobindlal et al., Environ. Sci.: Adv., 2023,2, 982-989
10.1039/D3VA00099K
Proteins as adsorbents for PFAS removal from water
Erik T. Hernandez et al., Environ. Sci.: Water Res. Technol., 2022,8, 1188-1194
10.1039/D1EW00501D
Efficient removal of short-chain and long-chain PFAS by cationic nanocellulose
Duning Li et al., J. Mater. Chem. A, 2023,11, 9868-9883
10.1039/D3TA01851B
High temperature behaviour of Ag-exchanged Y zeolites used for PFAS sequestration from water
Maura Mancinelli et al., Phys. Chem. Chem. Phys., 2023,25, 20066-20075
10.1039/D3CP01584J
Monitoring the adsorption of per- and polyfluoroalkyl substances on carbon black by LDI-MS capable of simultaneous analysis of elemental and organic carbon
Ke Min et al., Environ. Sci.: Processes Impacts, 2023,25, 1311-1321
10.1039/D3EM00129F
Exploring the adsorption of short and long chain per- and polyfluoroalkyl substances (PFAS) to different zeolites using environmental samples
Maura Mancinelli et al., Environ. Sci.: Water Res. Technol., 2023,9, 2595-2604
10.1039/D3EW00225J