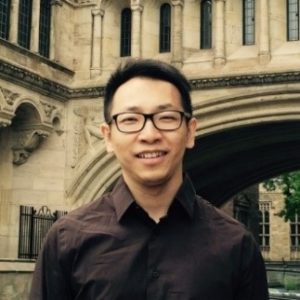 Dr. Mengyan Li is an Associate Professor in the Department of Chemistry and Environmental Science at New Jersey Institute of Technology, specializing in environmental microbiology and biotechnology. Dr. Li received his MS and Ph.D. degrees in Environmental Engineering at Rice University. His research focuses on untangling novel microbial processes that decompose and transform emerging contaminants (e.g., 1,4-dioxane, PFAS, and antibiotics) and developing effective treatment technologies suited for municipal, industrial, and agricultural settings. To tackle frontier challenges in the water-energy-food nexus, his group synergizes modern biotechnological tools (e.g., omics, single-cell analysis, and microarray) with high-resolution mass spectrometry. Dr. Li is a recipient of the NSF CAREER Award, ISPTS Young Scientist Award, and NJIT CSLA Research Rising Star and Graduate Education Awards.
Read Mengyan's Emerging Investigator article "environment-specific auxiliary substrates tailored for effective cometabolic bioremediation of 1,4-dioxane" and read more about him in the interview below:
Your recent Emerging Investigator Series paper focuses on Environment-specific Auxiliary Substrates Tailored for Effective Cometabolic Bioremediation of 1,4-Dioxane. How has your research evolved from your first article to this most recent article?
Fortunately, I have been working on 1,4-dioxane biodegradation and bioremediation ever since the beginning of my PhD study. Metabolism and cometabolism are two ways for microorganisms to degrade this emerging contaminant. Metabolism relies on microbes that can grow on 1,4-dioxane as the sole carbon and energy source. In contrast, microbes that cometabolize 1,4-dioxane require auxiliary substrates, such as propane and 1-propanol, to fuel the cells and stimulate the expression of 1,4-dioxane degrading enzymes. During my PhD at Rice University, I published my first article focusing on 1,4-dioxane metabolism and its implications for natural attenuation and bioaugmentation. However, bioremediation by metabolizers is challenged by several limitations for field applications. For instance, most 1,4-dioxane metabolizers tend to form clumps and exhibit low activities when 1,4-dioxane concentration is at trace level in the field. In this Emerging Investigator Series paper, we revealed that cometabolic bioremediation of 1,4-dioxane can be feasible in diverse environments. We also proved that 1-propanol can be an alternative auxiliary substrate as effective as propane when the native microbiome is low in biomass and diversity. This is a major advancement for field applications, since injection of liquid substrates like 1-propanol is more manageable and cost-efficient in deep aquifers and other 1,4-dioxane-impacted environments where injection of gaseous substrates like propane becomes less practical.
What aspect of your work are you most excited about at the moment?
I am very excited about untangling the molecular foundations for the biodegradation of 1,4-dioxane and other emerging contaminants and transform the learned knowledge to the innovation of remediation technologies to permanently remove these concerned chemicals.
In your opinion, what are the most important questions to be asked/answered in this field of research?
I think it is important to investigate (1) how to sustain and stimulate the activity of native or introduced microbes to degrade the contaminant of concern and (2) how native microbiomes and other environmental factors affect the performance of intrinsic bioremediation.
What do you find most challenging about your research?
With the assistance of state-of-the-art sequencing technologies, we are able to obtain the genomes or metagenomes of contaminant-degrading isolates or consortia, from which several putative genes can be predicted to be associated with the degradation of the contaminant. It is a challenging and tedious task to validate the function of these genes of interests though several biotechnologies (e.g., cloning and knock-out mutation) are available.
In which upcoming conferences or events may our readers meet you?
I routinely take my group to attend national and regional conferences organized by Battelle, Association of Environmental Engineering and Science Professors (AEESP), American Chemical Society (ACS), American Society for Microbiology (ASM), and Gordon Research Conferences (GRC). Internationally, I attend conferences organized by International Society for Microbial Ecology (ISME) and International Water Association (IWA). I look forward to connecting with the RSC-ES community in future events.
How do you spend your spare time?
I love nature and arts. Being located in the Metro New York area, I enjoy hiking on the Appalachian Trail, as well as exploring museums, galleries, and ethnic food around.
Which profession would you choose if you were not a scientist?
As an environmental scientist, I am looking for cures for our environment. Alternatively, I would probably work in the pharmaceutical industry to find cures for human beings.
Can you share one piece of career-related advice or wisdom with other early career scientists?
Being motivated and persistent are two driving forces for me to unravel the unknowns and innovate our traditions.