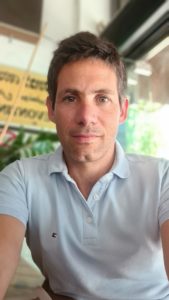 Read Oded Nir's Emerging Investigator article "Elucidating morphological effects in membrane mineral fouling using real-time particle imaging and impedance spectroscopy" and read more about him in the interview below:
Your recent Emerging Investigator Series paper focuses on elucidating morphological effects in membrane mineral fouling using real-time particle imaging and impedance spectroscopy. How has your research evolved from your first article to this most recent article?
One of the projects I worked on during my postdoc was using acid-resistant membranes for the filtration of wastewater effluent. Although the effluent itself was not acidic, the robust membrane permitted the use of frequent cleaning with strong acid to eliminate scaling minerals. That can potentially allow reaching very high concentration on the retentate, which means higher permeate recovery and lower brine volume – a critical goal in wastewater effluent filtration. Doing the experiments, I found indications that unlike calcium carbonate, which tends to scale the membrane, calcium phosphate precipitation occurs mainly in the retentate solution, creating some kind of a cake layer. I was curious to know why it is happening, what are the crystal morphologies and the implications on fouling and cleaning, so in my lab, we took a deeper dive into mineral scaling using advanced real-time monitoring. Our findings strongly supported our early assumptions.
What aspect of your work are you most excited about at the moment?
Currently I am very excited about combining water and wastewater treatment with resource recovery, especially nutrients, through smart process designs.
In your opinion, what are the most important questions to be asked/answered in this field of research?
There is a lot of developments in the field of sustainable water treatment and resource recovery, but I think very often the question should be: is the technology or the process I developed techno-economically feasible? Or at-least, do you see a path towards techno-economical viability? We need these solutions now, not within 20-30 years.
What do you find most challenging about your research?
Bringing a technology from lab to commercial use is very challenging. The solution must be very simple, elegant, and economically attractive. Unfortunately, there is currently not enough incentive for young PI's to push their innovations toward scale-up.
In which upcoming conferences or events may our readers meet you?
I will be giving talks in the European Desalination Society Congress (EDS 2022 Las-Palmas, Spain), and at the Nanofiltration 2022 conference in Achalem, Germany. Would be very happy to be approached by anyone interested.
How do you spend your spare time?
Mostly with my family. I also do trail running and hiking near our beautiful campus in the Negev desert
Which profession would you choose if you were not a scientist?
Has to be something creative, perhaps content creator or a musician
Can you share one piece of career-related advice or wisdom with other early career scientists?
Treat your students in the best possible way. Always listen, never get angry when making mistakes.