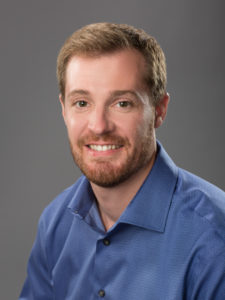 David Hanigan graduated from the University of Missouri – Columbia with a B.S. in Civil and Environmental Engineering in 2009.  He was awarded an M.S. in 2011 from the University of Missouri where his research focused on the removal of trihalomethane (THM) and haloacetic acid (HAA) precursors using MIEX and activated carbon.
His PhD research (2015, Arizona State University) focused on removal, characterization, and identification of N-nitrosamine precursors. Following completion of his PhD studies, he served as a post-doctoral researcher at Arizona State University and studied the implications of nanomaterial use through their life cycle (EPA funded through the LCNano network).
Since Fall 2016, David has been an Assistant Professor at the University of Nevada, Reno.  Hanigan is affiliated with the Nevada Water Innovation Institute, a  shared effort between the local Reno/Sparks water resource agencies and utilities and the University of Nevada.  Hanigan is also actively engaged in the Global Water Center, a University of Nevada Center that focuses on having real impact by finding sustainable solutions to drought, pollution, pathogens, and beyond.
Read David Hanigan's Emerging Investigator article "Emerging investigator series: rapid defluorination of 22 per- and polyfluoroalkyl substances in water using sulfite irradiated by medium-pressure UV" and read more about him in the interview below:
Your recent Emerging Investigator Series paper focuses on the defluorination of per- and polyfluoroalkyl substances in water. How has your research evolved from your first article to this most recent article?
Research that my lab now conducts is VERY different from what I published as a MS student.  I focused on disinfection by-products for both my MS and PhD and while I still have actively funded research in this area, we are doing lots of other fun things now too.  This article focused on PFAS remediation but we also have some cool funded efforts to develop instrumentation to improve the speed at which the DoD can conduct site characterization and determine if and how much remediation needs to be done.  Another project focuses on determining if PFAS are a vapor intrusion threat. Outside of PFAS we have worked to determine pharmaceutical loading to crops during irrigation with reclaimed water and how to reduce the loading of pharmaceuticals to the environment by improving waterless urinals. One student is even working on water quality effects of wildfire.
I started off working on reducing the human health threat of exposure to harmful small molecules and that is still where I am at, but the range of which small molecules I am interested in has grown substantially.
What aspect of your work are you most excited about at the moment?
We are getting ready to publish some really neat data on the volatility of PFAS.  The field has very little experimental data on their volatility and we stumbled on a really novel way to measure their Henry's Law constants.
In your opinion, what are the most important questions to be asked/answered in this field of research?
What are the sources of PFAS in the atmosphere.  Overall we have a pretty poor understanding of the source apportionment of what is up there.
What do you find most challenging about your research?
Balancing it with the rest of my obligation as a faculty member and my life.
In which upcoming conferences or events may our readers meet you?
I just got back from AWWA WQTC.  I also regularly attend AEESP conferences, the GRC on disinfection by-products, SERDP events, and ACS.
How do you spend your spare time?
I supervise a small human.  I also still find time to mountain bike in the Sierra Nevada and the foothills around Reno.  I begrudgingly ski during the snowy part of the year.
Which profession would you choose if you were not a scientist?
Something low stress where I could work with my hands. I used to mow lawns, maybe that. I find it therapeutic. Or I might go the opposite direction and be a college football sharp.
Can you share one piece of career-related advice or wisdom with other early career scientists?
Meet lots of people. There's nothing better than being able to phone an expert and it really helps when you are job hunting.  Also, don't take things too seriously.