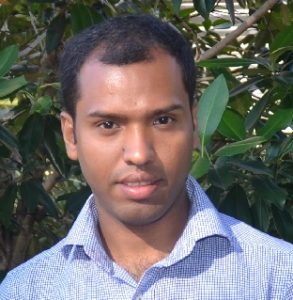 Dr Biplob Pramanik is a Lecturer in the Civil & Infrastructure Engineering Discipline and member of Water: Effective Technologies and Tools (WETT) Research Centre at RMIT University, Australia. Before joining RMIT, he worked at LaTrobe University, Australia as a Lecturer and the University of Wollongong as a Vice-Chancellor Postdoctoral Research Fellow between Jan 2017 and Jan 2019. Biplob obtained his PhD degree from RMIT University in 2016. His research focuses on the development of a technology platform for simultaneous recovery of water, energy and resources from wastewater. His research also focuses on the fate of road dust associated emerging pollutants in stormwater.
Read his Emerging Investigator article "Phosphorus recovery from municipal wastewater by adsorption on steelmaking slag preceding forward osmosis: an integrated process" and read more about him in the interview below:
Your recent Emerging Investigator Series paper focuses on Phosphorus recovery from municipal wastewater by adsorption on steelmaking slag preceding forward osmosis: an integrated process. How has your research  evolved from your first article to this most recent article.
My first paper was on understanding the fate of perfluorinated chemicals in the water environment. Since then I have been focusing on the development of a separation-based technological platform (i.e., adsorption and membrane separation) for removing pollutants and resource recovery (e.g., phosphorus and lithium) from different water sources. This Emerging Investigator Series paper proposed a combined adsorption-membrane process can effectively remove, and thus recover, phosphorus from municipal wastewater. This article will further advance the separation-based technologies for water treatment and resource recovery.
What aspect of your work are you most excited about at the moment?
My current work focuses on performing mapping (identify, classify and quantify) of the microplastics present in different water sources. At this stage, I am most excited about understanding the fate of road dust associated microplastics in stormwater. We identified the presence of microplastics in Australian road dust and stormwater. We plan to develop a simple flotation process to remove microplastics from stormwater before they are discharged into open waterways.
In your opinion, what are the most important questions to be asked/answered in this field of research?
Dissolved air flotation is widely used for removal of suspended and colloidal solids from municipal wastewater and industrial wastewater. However, the fate of microplastics during flotation process is largely unknown. Hence, we need to understand the major kinetics of the interactions between air bubbles and microplastics in the flotation system.
What do you find most challenging about your research?
Identifying different types of microplastics is one of the most challenging in my current research.
In which upcoming conferences or events may our readers meet you?
I do not have any plan to travel this year due to COVID19. But I will be attending virtual conference (Challenges in Environmental Science and Engineering) on 7-8 November 2020. I will attend IWA Leading Edge Conference on Water and Wastewater in 2021.
How do you spend your spare time?
I enjoy spending my spare time with my wife. We watch movie together. I usually talk to my parents and relatives.
Which profession would you choose if you were not a scientist?
I would like to become a school teacher, more particularly math teacher.
Can you share one piece of career-related advice or wisdom with other early career scientists?
I would advise to early career researcher for collaborating strategically with people from diverse research portfolio and developing your own research strength.