We are delighted to introduce out latest Envrionmental Science: Water Research & Technology Emerging Investigator, Manish Kumar!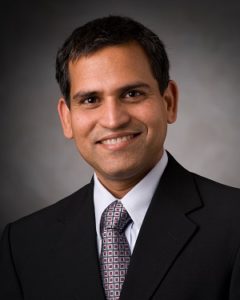 Manish Kumar is an associate professor of Chemical Engineering, Environmental Engineering, and Biomedical Engineering at Penn State University. He received his bachelors degree from the National Institute of Technology in Trichy, India in Chemical Engineering. He completed an MS in Environmental Engineering at the University of Illinois, and then worked for approximately seven years in the consulting industry on applied research projects (lab, pilot, and full scale) on various technologies for water and wastewater treatment. Manish returned to Illinois to complete a PhD in the area of biomimetic membranes and then conducted postdoctoral research at the Harvard Medical School on the structure of water channel proteins, aquaporins, using cryo-electron microscopy. His current work focuses on adapting molecular scale ideas from biology and materials science for use in sustainable water and wastewater treatment. He has received the US National Science Foundation CAREER award and the Della and Rustom Roy award for outstanding materials research. His independent academic career has resulted in approximately 50 publications so far.
Read Manish's Emerging Investigators article 'Prospects and challenges for high-pressure reverse osmosis in minimizing concentrated waste streams' and find out more about him in the interview below:
Your recent Emerging Investigator Series paper focuses on high-pressure reverse osmosis. How has your research evolved from your first article to this most recent article?
My first paper was on pre-treatment strategies for seawater reverse osmosis utilizing a combination of bench scale and pilot scale studies back when I worked in industry. I have since worked on various aspects of reverse osmosis membrane fouling and new materials development using biomimetic strategies. The current paper has evolved out of our interest in treating high salinity brines, something that I also worked on during my industrial career and have not really focused on much since.
What aspect of your work are you most excited about at the moment?
I am most excited about developing channel-based alternatives (both based on artificial and biological channels) to current reverse osmosis and nanofiltration membranes.
In your opinion, what is the biggest advantage of using reverse osmosis for concentrated waste streams over traditional methods?
The biggest advantage is perhaps the high energy efficiency followed by the ease of implementation for reverse osmosis compared to current thermal processes.  Even though thermal processes in some form may be required to achieve zero liquid discharge but, hopefully, by combining high pressure reverse osmosis with these traditional methods the overall energy efficiency can be greatly improved
What do you find most challenging about your research?
The multidisciplinary aspect of it and the constant feeling that there is so much more to learn – this is perhaps also the most exciting part of it.
In which upcoming conferences or events may our readers meet you?
I am chairing the Gordon Research Conference on Membranes this year (New London, NH, USA 12th to 17thAugust, 2018) and am the deputy chair for a Faraday Discussions meeting on Artificial Water Channels (Glasgow, UK, 25th -27th June, 2018). I will also be attending the American Institute of Chemical Engineers meeting in Pittsburgh in November. My favorite conference to attend is the AEESP conference, which is organized every two years. I am looking forward to the AEESP conference in Phoenix in 2019.
How do you spend your spare time?
I enjoy spending my spare time with my family. We enjoy exercising, traveling, and reading as a family.
Which profession would you choose if you were not a scientist?
I would have loved to be a writer (even though I struggle with writing papers on a day to day basis).
Can you share one piece of career-related advice or wisdom with other early career scientists?
I would recommend collaborating strategically with people from different fields and developing your own unique "research brand".