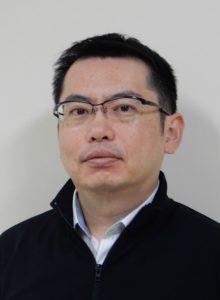 Takahiro Fujioka received his B.Eng. in 2000 and M.Eng. in 2002 both in Chemical Engineering from Hiroshima University, Japan. He worked as a project manager at Fuji Electric Systems Co. Ltd. from 2002 to 2005. He undertook postgraduate training in Water Supply Engineering at UNESCO-IHE, Netherlands and graduated in April 2009. Thereafter, he worked as a project engineer at Mitsubishi Electric Co. until December 2010. From December 2010 to December 2013, Takahiro undertook a Ph.D. training project at the University of Wollongong, Australia. From December 2013 to April 2015, Takahiro worked as a research fellow at the University of Wollongong. In addition, he served as the secretary and a board member of the Membrane Society of Australasia from May 2013 to May 2015.
Takahiro is currently an Associate Professor at Nagasaki University. His research interests centre on water reuse using membrane technologies. He has published 34 international journal papers.
Read Takahiro's Emerging Investigators paper "A steric pore-flow model to predict the transport of small and uncharged solutes through a reverse osmosis membrane" and find out more about him in the interview below:
Your recent Emerging Investigator Series paper focuses on a model to predict the transport of solutes through a reverse osmosis membrane. How has your research evolved from your first article to this most recent article?
My first research as a PhD candidate focused on the assessment of the removal of N-nitrosodimethylamine (NDMA), a potential carcinogen, by reverse osmosis (RO) membranes for potable reuse. People may expect that RO membrane can reject almost all of solutes in water, but in reality some small and uncharged substances including NDMA are only partially rejected by RO membranes. The biggest research question at that time was what factors mainly govern NDMA permeation through RO membranes. Since then, we have identified that operating conditions (e.g. permeate flux and temperature) and membrane conditions (e.g. membrane fouling level and chemical cleaning) play an important role in the NDMA permeation. Using the knowledge, this paper tried to develop a practical model that could predict the transport of NDMA and many other trace organic chemicals through RO membrane.
What aspect of your work are you most excited about at the moment?
At the moment, I am excited about validating the use of online NDMA analysers for RO process. Some of our early work has been published in Environmental Science: Water Research & Technology. We are currently evaluating the potential of using online monitored NDMA rejection value as a surrogate RO system performance indicator for the removal of trace organic chemicals. This work could potentially make a significant breakthrough in water quality management in potable reuse.
In your opinion, what is the biggest advantage of using models to predict solute transport through reverse osmosis membranes over experimental methods?
I think that the model will be useful when we need to know the rejection of newly identified contaminants by a specific RO membrane. There is an increasing number of contaminants of emerging concern, but their removal by RO membrane has not fully been evaluated because the analysis of these chemicals is costly and labour intensive. Predictive models can provide an estimate on chemical rejection by RO membrane. As a result, the models could help us to narrow down the number of chemicals that have to be further evaluated in experimental validation.
What do you find most challenging about your research?
Decoding the mechanism of solute permeation through RO membranes is very challenging. We have characterised RO membranes using the state-of-the-art analytical technologies including positron annihilation lifetime spectroscopy. However, we have not fully understood what membrane properties actually govern the solute permeation yet. So I am now trying to identify the mechanism using computer-based molecular dynamic (MD) simulations. MD simulations can potentially decode solute transport at the atomistic scale. I am still on the learning curve.
In which upcoming conferences or events may our readers meet you?
I always try to attend water reuse- and membrane-related conferences. In 2018 I will be presenting our recent research outcomes at the 2018 Water Research Foundation Conference (Atranta, USA) and 11th Conference of the Aseanian Membrane Society (Brisbane, Australia).
How do you spend your spare time?
I take a walk or go shopping with my wife and 2.5-year-old daughter. Because we have not got a car since we relocated to Japan in 2015, we always walk in our daily life if not using a tram or train.
Which profession would you choose if you were not a scientist?
I would choose a fruit farmer, because I've been into fruit gardening since I was a child.
Can you share one piece of career-related advice or wisdom with other early career scientists?
I would suggest early career scientists that they try to take any career-related opportunities and tasks, even if they look too challenging or are beyond their ability. I have learnt that people see our skills in a different light. As long as we work a lot harder than expected, I think that we can successfully perform the challenging work.