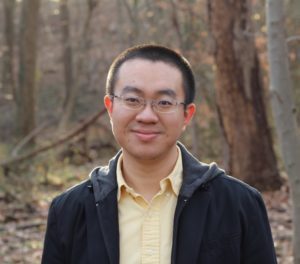 Dr. Danmeng Shuai is an assistant professor in the Department of Civil and Environmental Engineering at The George Washington University since 2013. He graduated from Tsinghua University, P. R. China with a Bachelor of Engineering in 2005 and a Master of Engineering in 2007, both in Environmental Engineering. He received a Ph.D. in Environmental Engineering from the University of Illinois at Urbana-Champaign in 2012. He worked as a postdoctoral research associate in the University of Iowa from 2012 to 2013. His research interests are in the development of innovative materials for water-energy-health nexus. He has published several peer-review journal articles in Environ. Sci. Technol., ACS Appl. Mater. Interfaces, ACS Sustainable Chem. Eng., ACS Catal., Environ. Sci. Water Res. Technol., etc. His current research is supported by National Science Foundation and US Department of Agriculture-National Institute of Food and Agriculture. Follow Danmeng on Twitter – @DanmengShuai and visit his Research Group's website – http://materwatersus.weebly.com/
Read his Emerging Investigators series article "Emerging investigators series: Advances and Challenges of Graphitic Carbon Nitride as a Visible-Light-Responsive Photocatalyst for Sustainable Water Purification" and find out more about his research below:
Your recent Emerging Investigator Series paper in Environmental Science: Water Research & Technology focuses on graphitic carbon nitride as a photocatalyst for sustainable water purification. How has your research evolved from your first article to this most recent article?
Our research group has been working on graphitic carbon nitride for photocatalytic water purification since 2014. Graphitic carbon nitride is an emerging photocatalyst since 2009, and it has several unique merits that promote its applications for sustainable, solar-energy-powered water purification. We developed graphitic carbon nitride with improved photocatalytic performance by density functional theory simulations, and evaluated its performance for the degradation of persistent organic micropollutants in complex water matrices that represent water and wastewater treatment practices (http://pubs.acs.org/doi/abs/10.1021/acs.est.6b02579). Beyond the scope of chemical contaminants, we are currently working on antimicrobial applications of graphitic carbon nitride for the inactivation of waterborne, foodborne, airborne, and surface-borne pathogens, by utilizing renewable solar energy and visible indoor light. For example, we collaborated with other researchers for virus inactivation by graphitic carbon nitride (http://www.sciencedirect.com/science/article/pii/S004313541630745X). US Department of Agriculture-National Institute of Food and Agriculture (USDA-NIFA) recently started to support us for developing graphitic carbon nitride-based antimicrobial materials for safe food processing and packaging (https://nifa.usda.gov/announcement/usda-announces-46-million-nanotechnology-research).
What aspect of your work are you most excited about at the moment?
We are most attracted by the unique feature and diverse applications of graphitic carbon nitride. The interaction between graphitic carbon nitride and chemical contaminants could be tailored for selective contaminant removal. We observed some graphitic carbon nitride samples showed selective photocatalytic degradation of persistent organic micropollutants (e.g., atrazine), and are currently using a combined experimental and simulation approach to understand the mechanism. It will help the rational design of highly reactive and selective photocatalyst for the removal of contaminants of a low concentration and high toxicity, even in the presence of complex water constituents. Graphitic carbon nitride also effectively inactivates microorganisms under simulated indoor light (we used white LED and it worked!), and we are exploring its applications for catalysis, adsorption, and membrane separation. For example, we used graphitic carbon nitride as a catalyst support for Pd-based hydrogenation of contaminant nitrate and nitrite, and observed high reactivity, selectivity toward a desired product, and longevity of the catalysts (http://pubs.acs.org/doi/10.1021/acsami.7b09192).
In your opinion, what is the biggest challenge for sustainable water purification and how does the use of graphitic carbon nitride help to overcome this?
An ideal, sustainable water purification system requires improved performance for the removal of persistent and emerging contaminants, reduced energy and chemical footprint, potential resource recovery from the waste, and minimized adverse impacts of treated water (reduced byproducts). Graphitic carbon nitride can use renewable solar energy for water treatment, and its performance may outperform peer photocatalysts because it can harvest and utilize more visible light. Our previous study demonstrates the viability of graphitic carbon nitride for the removal of persistent organic micropollutants, and the material holds promise for sustainable, small-scale water treatment (e.g., for small communities, rural areas, developing countries). We also believe this material can be tailored for resource recovery in the future.
What do you find most challenging about your research?
Challenges come from two folds, one is the atomic-scale, mechanistic understanding of how the material is interacting with chemicals and biomolecules, and the other one is the large-scale implementation of the material for solving real world problems. For example, scalability, stability, long-term performance of graphitic carbon nitride, as well as photoreactor design are crucial yet challenging for its applications, as we suggested in this perspective.
In which upcoming conferences or events may our readers meet you?
ACS, Gordon (Water, Environmental Nano, Nanoscale Science & Engineering for Agriculture & Food Systems), AEESP conferences.
How do you spend your spare time?
Cooking and staying with my family. I always tell my friends I can cook well because I am working with chemicals. However I don't need a six digit balance to decide how much salt will be suitable for the dish.
Which profession would you choose if you were not a scientist?
A chef maybe?
Can you share one piece of career-related advice or wisdom with other early career scientists?
Expand core expertise, diversify research areas, and welcome collaborations. I never thought of working with microorganisms, but thanks to my wife who introduces me into a new, intriguing field (she is an environmental microbiologist).