There is a critical need for inexpensive point-of-use methods (POU) for purifying drinking water in developing countries to prevent waterborne pathogens.
Microbial contamination of water causes the spread of avoidable water-borne diseases, such as cholera, giardiasis, gastroenteritis and cryptosporidiosis, highlighted by WHO in their guidelines for drinking water quality. The potential health consequences of microbial contamination are important to consider and may never be compromised, from catchment to customer.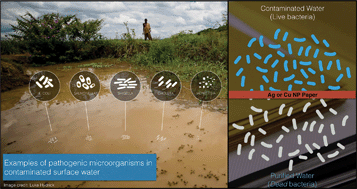 Figure 1. Examples of pathogenic microorganisms in contaminated surface water (left)
and the effect of nano-enabled (AG or CU NP) paper filters on the contaminated water (right).
Drinking water quality in Limpopo, South Africa
The last 20 years have showed an increase in drinking water quality for South Africa, where 95% of the population are considered to have access to potable drinking water as of 2012. However, a lot of rural residents still do not have reliable access to potable water and Limpopo, the study area in a recently published article, is the most rural province in South Africa. This region is highly affected by a lack of potable water and as a result the rates of diarrhoea cases are much higher than the national average.
Silver and copper – 'noble' in many ways
For the first time in the field, a study by Dankovich et al., published in Environmental Science: Water Research & Technology, demonstrates a novel and affordable technology for purifying drinking water. By using nano-enabled paper filters as a point-of-use method, the filters effectively inactivated coliform bacteria from contaminated water sources in Limpopo, South Africa.
The microbial water quality was improved by passing contaminated surface water from rural areas through nanoparticle paper filters which contained either AgNP (silver nanoparticles) or CuNP (copper nanoparticles). All of the AgNP and CuNP paper filters prominently reduced total coliform and E. Coli as compared to the untreated influent water, and E. coli bacteria were eliminated for the rural and urban medium samples.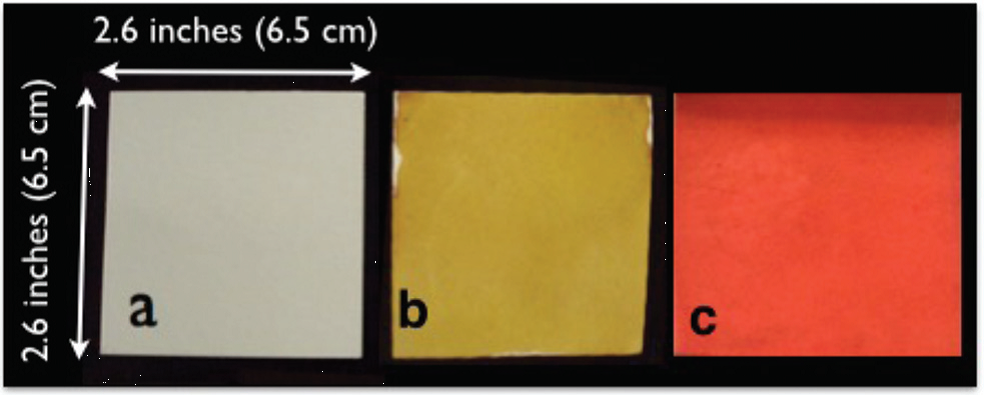 Figure 2. Blotter papers (a) untreated, (b) with silver nanoparticles, and (c) with copper nanoparticles.
Note the scale: each paper is 6.5 cm by 6.5 cm and the filter cross section is 4.7 cm by 4.7 cm.
The problem of microbial contamination of water, turbidity and other pollutants from the natural sources studied in this specific research project are representative of many similar settings in the developing world and these filters show great promise as a water purifying option for resource-limited countries and regions.
The researchers raise important future directions for further development in the area are water purification by nano-enabled paper filters as a point-of-use method. Future research is needed to evaluate the design of practical and user-friendly filter holders, as well as address the practical challenges of implementing this paper filter technology in emergency/disaster relief settings and rural households.
Explore the exciting research regarding the nanoparticle paper filters in detail for free*:
Inactivation of bacteria from contaminated streams in Limpopo, South Africa by silver- or copper-nanoparticle paper filters
T. Dankovich, J. Levine, N. Potgieter, R. Dilingham and J. Smith
Environ. Sci.: Water Res. Technol., 2016, Advance Article
DOI: 10.1039/C5EW00188A
---
– Interested in more research regarding nano materials and the environment? Please visit our sister blog Environmental Science: Nano. Dr Marina Vance, webwriter in ES: Nano, explains how silver nanoparticles have antimicrobial "super powers", and also highlights some environmental & health risks and opportunities of nanotechnology in the new Ted X Talk "The Good, the Bad, the Tiny".
– Water quality is highlighted as one of several "Global Challenges" by the Royal Society of Chemistry. More resources on global, regional and local water quality are available here.
– The same researchers made a small Internet success last year with the viral spread of a project from the Water is Life organization, highlighted by magazines such as Wired, Slate and Smithsonian.
---
Jesper Agrelius is a MSc student in Environmental Science at Linköping University, Sweden. His main interests regards environmental science, especially climate change and biogeochemistry. You can follow him on Twitter @JesperAgrelius.
—————-
*Access is free through a registered RSC account.