We are delighted to introduce Long Nghiem as an Editorial Board Member for our new journal Environmental Science: Water Research & Technology.
Long Nghiem
Long is an Associate Professor for the School of Civil Mining and Environmental Engineering at the University of Wollongong in Australia where he completed his PhD in 2005.
Long's research expertise covers a range of membrane separation processes, including pressure driven membrane filtration, forward osmosis, membrane distillation, facilitated transport membrane, membrane electrolysis, and membrane bioreactor. Current research work of his membrane separation laboratory focuses on the development of a membrane separation platform for the recovery of clean water, energy, and nutrients from wastewater. Long was the Vice President of the Membrane Society of Australasia from 2010 – 2014 and is currently a member of the Managing Committee of the IWA Membrane Specialty Group.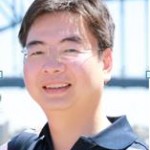 My aim:
" To provide clean and affordable drinking water to all and to transform wastewater treatment into 'biorefineries' for energy and fertilizer production through innovative membrane processes."
Long Nghiem, Editorial Board Member, Environmental Science: Water Research &Technology
Make sure you don't miss out on the latest journal news by registering your details to receive the regular Environmental Science: Water Research & Technology e-alert.
Follow us on Twitter @ESWater_RSC.