We are delighted to share with you a series of collections of recent books and articles on the topic of water.  These four collections – one per month – demonstrate different aspects of water: its chemistry, its wide use in reactions and as a solvent, its relationship with energy and sustainability, as well as with human health and the environment.
Here, in our fourth collection, we have assembled some of the ground breaking research and transformative reviews related to water in health and in the environment –highlighting the importance of water in our daily life – from across our journals.
Water and energy are two of the most significant scientific and societal challenges we face in the 21st Century. This selection of papers attempts to give readers a comprehensive flavour of some of the environmental challenges we face associated with water, its portability, use and re-use through interdisciplinary research, new technologies, and sustainability issues. I hope that readers will find this selection of content to be valuable in their research and help resolve some of the challenges we face.
Harp Minhas
Executive Editor, Environment
"This year, as the IPCC prepares to release the final contributions to their Fifth Assessment Report on climate change, it is timely to consider the role of chemistry in addressing global challenges, such as food, water, raw materials and energy," remarks Professor Lesley Yellowlees, President of the Royal Society of Chemistry. "This collection from our journals shares the latest research from scientists around the world, aiming to tackle these challenges. Featuring original research and commentary by leaders in the field, we hope that you will find this high-quality collection engaging, inspirational and informative."
You can read all of these articles for free until 8th August 2014! We truly hope you enjoy this collection.
We have already published our collections on the Chemistry of water, Chemistry in water and Water and Energy.
Did you know that the RSC has put togethera webpage on Water, which brings together information on activities for scientists, policymakers, educators and young people? Take a look today…
We are also delighted to announce the launch of our newest journal
Environmental Science: Water Research & Technology
Resources, Security, Sustainability
A broad spectrum journal dealing with all scientific water issues, technologies, engineering, resources, security and sustainability. Also covering societal issues and impacts. See the journal homepage for full details.
"Water resources are at such a critical juncture in today's society.  Climate change, the energy-water nexus, and water reuse and sustainability are all emerging themes that will impact current and future generations.  I believe Environmental Science: Water Research & Technology will be a tremendous platform for the presentation and discussion of the latest, cutting-edge research in these areas, while also representing an exciting new alternative for research in more traditional areas of water"
David Cwiertny
Editor-in-Chief, Environmental Science: Water Research & Technology
Some books on water, health and the environment: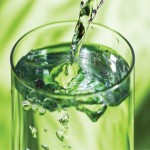 Green Materials for Sustainable Water Remediation and Treatment
Anuradha Mishra, James H Clark
ISBN: 978-1-84973-621-3
Water Contamination Emergencies
Ulrich Borchers, John Gray, K Clive Thompson
ISBN: 978-1-84973-441-7
The Significance of Faecal Indicators in Water
David Kay, C Fricker
ISBN: 978-1-84973-169-0
Handbook of Culture Media for Food and Water Microbiology
Janet E L Corry, Gordon D W Curtis, R M Baird
ISBN: 978-1-84755-916-6
Water Contamination Emergencies
K Clive Thompson, Ulrich Borchers
ISBN: 978-1-84973-156-0
The Water Framework Directive: Action Programmes and Adaptation to Climate Change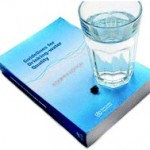 Philippe Quevauviller, Ulrich Borchers, K Clive Thompson, Tristan Simonart
ISBN: 978-1-84973-156-0
Sustainable Water
R E Hester, R M Harrison
ISBN: 978-1-84973-019-8
Basic Water Treatment: Edition 5
Chris Binnie, Martin Kimber
ISBN: 978-1-84973-974-0
---
Reviews and Perspectives:
Powering denitrification: the perspectives of electrocatalytic nitrate reduction
Matteo Duca and Marc T. M. Koper
Energy Environ. Sci., 2012,5, 9726-9742
DOI: 10.1039/C2EE23062C, Perspective
Exposure to multiple metals from groundwater—a global crisis: Geology, climate change, health effects, testing, and mitigation
Erika Mitchell, Seth Frisbie and Bibudhendra Sarkar
Metallomics, 2011, 3, 874-908
DOI: 10.1039/C1MT00052G, Critical Review
World Health Organization increases its drinking-water guideline for uranium<
Seth H. Frisbie, Erika J. Mitchell and Bibudhendra Sarkar
Environ. Sci.: Processes Impacts, 2013,15, 1817-1823
DOI: 10.1039/C3EM00381G, Perspective
Forward and pressure retarded osmosis: potential solutions for global challenges in energy and water supply
Chalida Klaysom, Tazhi Y. Cath, Tom Depuydt and Ivo F. J. Vankelecom
Chem. Soc. Rev., 2013,42, 6959-6989

DOI: 10.1039/C3CS60051C, Review Article
Biofilms in drinking water: problems and solutions
Lúcia Chaves Simões and Manuel Simões
RSC Adv., 2013, 3, 2520-2533
DOI: 10.1039/C2RA22243D, Review Article
Mechanisms of lead and manganese neurotoxicity
April P. Neal and Tomas R. Guilarte
Toxicol. Res., 2013,2, 99-114
DOI: 10.1039/C2TX20064C, Review Article
Mechanisms and modifiers of methylmercury-induced neurotoxicity
Stephanie J. B. Fretham, Samuel Caito, Ebany J. Martinez-Finley and Michael Aschner
Toxicol. Res., 2012,1, 32-38
DOI: 10.1039/C2TX20010D, Review Article
Water-gated organic field effect transistors – opportunities for biochemical sensing and extracellular signal transduction
T. Cramer, A. Campana, F. Leonardi, S. Casalini, A. Kyndiah, M. Murgia and F. Biscarini
J. Mater. Chem. B, 2013,1, 3728-3741
DOI:10.1039/C3TB20340A, Application
Antimalarial peroxides: advances in drug discovery and design
Rachel D. Slack, Alexander M. Jacobine and Gary H. Posner
Med. Chem. Commun., 2012,3, 281-297
DOI: 10.1039/C2MD00277A, Review Article
From themed collection MedChemComm 2012 review articles
Chemical treatment technologies for waste-water recycling—an overview
Vinod Kumar Gupta, Imran Ali, Tawfik A. Saleh, Arunima Nayak and Shilpi Agarwal
RSC Adv., 2012, 2, 6380-6388
DOI:10.1039/C2RA20340E
---
Original research articles:
A luminescent-water soluble inorganic co-crystal for a selective pico-molar range arsenic(III) sensor in water medium
Biswajit Dey, Rajat Saha and Priyanka Mukherjee
Chem. Commun., 2013,49, 7064-7066
DOI: 10.1039/C3CC43574A, Communication
A Prototype Point-of-Use Assay for Measuring Heavy Metal Contamination in Water Using Time as a Quantitative Readout
Gregory G Lewis, Jessica Sloane Robbins and Scott Phillips
Chem. Commun., 2013, Accepted Manuscript
DOI: 10.1039/C3CC47698G, Communication
From themed collection 2014 Emerging Investigators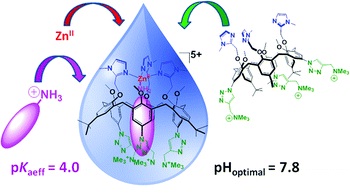 Recognition of primary amines in water by a zinc funnel complex based on calix[6]arene
Olivia Bistri, Benoit Colasson and Olivia Reinaud
Chem. Sci., 2012,3, 811-818
DOI: 10.1039/C1SC00738F, Edge Article
Magnetically directed clean-up of underwater oil spills through a functionally integrated device
Mengjiao Cheng, Guannan Ju, Chao Jiang, Yajun Zhang and Feng Shi
J. Mater. Chem. A, 2013,1, 13411-13416
DOI:10.1039/C3TA12607B, Communication
Algal fluorescence sensor integrated into a microfluidic chip for water pollutant detection
Florent Lefèvre, Annie Chalifour, Luping Yu, Vamsy Chodavarapu, Philippe Juneau and Ricardo Izquierdo
Lab Chip, 2012,12, 787-793
DOI:10.1039/C2LC20998E, Paper
Optical sensing system based on wireless paired emitter detector diode device and ionogels for lab-on-a-disc water quality analysis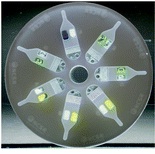 Monika Czugala, Robert Gorkin III, Thomas Phelan, Jennifer Gaughran, Vincenzo Fabio Curto, Jens Ducrée, Dermot Diamond and Fernando Benito-Lopez
Lab Chip, 2012,12, 5069-5078
DOI:10.1039/C2LC40781G, Paper
Does soil water saturation mobilize metals from riparian soils to adjacent surface water? A field monitoring study in a metal contaminated region
Liesbeth Van Laer and Erik Smolders
Environ. Sci.: Processes Impacts, 2013,15, 1181-1190
DOI:10.1039/C3EM00006K, Paper
Photo-regenerable multi-walled carbon nanotube membranes for the removal of pharmaceutical micropollutants from water
Qammer Zaib, Bilal Mansoor and Farrukh Ahmad
Environ. Sci.: Processes Impacts, 2013,15, 1582-1589
DOI:10.1039/C3EM00150D, Paper
Water soluble flavonol prodrugs that protect against ischaemia-reperfusion injury in rat hindlimb and sheep heart
Spencer J. Williams, Colleen J. Thomas, Mirna Boujaoude, Carlie T. Gannon, Shannon D. Zanatta, Bevyn Jarrott, Clive N. May and Owen L. Woodman
Med. Chem. Commun., 2011,2, 321-324
DOI:10.1039/C0MD00240B, Concise Article
Water-soluble bis(1,10-phenanthroline) octanedioate Cu2+ and Mn2+ complexes with unprecedented nano and picomolar in vitro cytotoxicity: promising leads for chemotherapeutic drug development
Andrew Kellett, Mark O'Connor, Malachy McCann, Orla Howe, Alan Casey, Pauraic McCarron, Kevin Kavanagh, Mary McNamara, Sean Kennedy, Donald D. May, Philip S. Skell, Denis O'Shea and Michael Devereux
Med. Chem. Commun., 2011,2, 579-584
DOI: 10.1039/C0MD00266F, Concise Article
Graphene oxide for effective radionuclide removal
Anna Yu. Romanchuk, Alexander S. Slesarev, Stepan N. Kalmykov, Dmitry V. Kosynkin and James M. Tour
Phys. Chem. Chem. Phys., 2013,15, 2321-2327
DOI: 10.1039/C2CP44593J, Paper
Direct prediction of the desalination performance of porous carbon electrodes for capacitive deionization
S. Porada, L. Borchardt, M. Oschatz, M. Bryjak, J. S. Atchison, K. J. Keesman, S. Kaskel, P. M. Biesheuvel and V. Presser
Energy Environ. Sci., 2013, Advance Article
DOI: 10.1039/C3EE42209G, Paper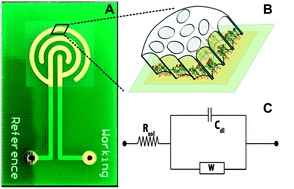 An electrochemical sensor for the detection of antibiotic contaminants in water
Michael Jacobs, Vinay J. Nagaraj, Tim Mertz, Anjan Panneer Selvam, Thi Ngo and Shalini Prasad
Anal. Methods, 2013, 5, 4325-4329
DOI: 10.1039/C3AY40994E
Scavenging of benzodiazepine drugs from water using dual-functionalized silica nanoparticles
Nezar H. Khdary, Ahmed E. Gassim and Alan G. Howard
Anal. Methods, 2012, 4, 2900-2907
DOI: 10.1039/C2AY25297J
Guidelines for alkylphenols estimation as alkylphenol polyethoxylates pollution indicator in wastewater treatment plant effluents
Y. Moliner-Martínez, J. M. Pastor-Carbonell, A. Bouzas, A. Seco, M. R. Abargues and P. Campíns-Falcó
Anal. Methods, 2013, 5, 2209-2217
DOI: 10.1039/C3AY00029J
Development of a sensitive time-resolved fluoroimmunoassay for organophosphorus pesticides in environmental water samples
Zhen-Lin Xu, Jie-Xian Dong, Jin-Yi Yang, Hong Wang, Yue-Ming Jiang, Hong-Tao Lei, Yu-Dong Shen and Yuan-Ming Sun
Anal. Methods, 2012,4, 3484-3490
DOI:10.1039/C2AY25534K
Identification of bacteria in drinking water with Raman spectroscopy
Jack van de Vossenberg, Heli Tervahauta, Kees Maquelin, Carola H. W. Blokker-Koopmans, Marijan Uytewaal-Aarts, Dick van der Kooij, Annemarie P. van Wezel and Bram van der Gaag
Anal. Methods, 2013,5, 2679-2687
DOI:10.1039/C3AY40289D
A novel colorimetric biosensor for monitoring and detecting acute toxicity in water
Junfeng Zhai, Daming Yong, Jing Li and Shaojun Dong
Analyst, 2013, 138, 702-707
DOI:10.1039/C2AN36160D
Determination of selected natural hormones and endocrine disrupting compounds in domestic wastewater treatment plants by liquid chromatography electrospray ionization tandem mass spectrometry after solid phase extraction
Melis Muz, M. Selcen Sönmez, Okan Tarık Komesli, Sezgin Bakırdere and Celal Ferdi Gökçay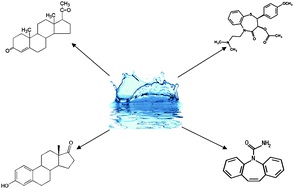 Analyst, 2012,137, 884-889
DOI:10.1039/C2AN15644J
Multifunctional nanostructured membrane for clean water reclamation from wastewater with various pH conditions
Peng Gao, Darren Delai Sun and Wun Jern Ng
RSC Adv., 2013, 3, 15202-15210
DOI:10.1039/C3RA42181C
Water-Stable Metal-Organic Frameworks with Intrinsic Peroxidase-like Catalytic Activity as a Colorimetric Biosensing Platform
Jian-Wei Zhang, Hao-Tian Zhang, Zi-Yi Du, Xueqing Wang, Shu-Hong Yu and Hai-Long Jiang
Chem. Commun., 2013, Accepted Manuscript
DOI: 10.1039/C3CC48398C, Communication
Highly selective fluorescent sensing for CN− in water: utilization of the supramolecular self-assembly
BingBing Shi, Peng Zhang, TaiBao Wei, Hong Yao, Qi Lin and YouMing Zhang
Chem. Commun., 2013,49, 7812-7814
DOI: 10.1039/C3CC44056G, Communication
Rapid and ratiometric detection of hypochlorite with real application in tap water: molecules to low cost devices (TLC sticks)
Shyamaprosad Goswami, Abhishek Manna, Sima Paul, Ching Kheng Quah and Hoong-Kun Fun
Chem. Commun., 2013,49, 11656-11658
DOI: 10.1039/C3CC47121G, Communication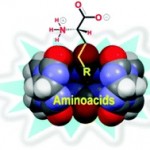 "Turn-on" fluorescent sensor array for basic amino acids in water
Tsuyoshi Minami, Nina A. Esipenko, Ben Zhang, Lyle Isaacs and Pavel Anzenbacher
Chem. Commun., 2014, Advance Article
DOI: 10.1039/C3CC47416J, Communication
Papilla-like magnetic particles with hierarchical structure for oil removal from water
Li-Ping Xu, Xiuwen Wu, Jingxin Meng, Jitao Peng, Yongqiang Wen, Xueji Zhang and Shutao Wang
Chem. Commun., 2013,49, 8752-8754
DOI: 10.1039/C3CC44003F, Communication
Zeolite-coated mesh film for efficient oil–water separation
Qiang Wen, Jiancheng Di, Lei Jiang, Jihong Yu and Ruren Xu
Chem. Sci., 2013,4, 591-595
DOI: 10.1039/C2SC21772D, Edge Article
Flexible inorganic nanofibrous membranes with hierarchical porosity for efficient water purification
Qiang Wen, Jiancheng Di, Yong Zhao, Yang Wang, Lei Jiang and Jihong Yu
Chem. Sci., 2013,4, 4378-4382
DOI: 10.1039/C3SC51851E, Edge Article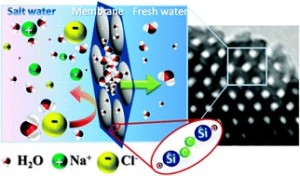 Nanoporous organosilica membrane for water desalination
Yen Thien Chua, Chun Xiang Cynthia Lin, Freddy Kleitz, Xiu Song Zhao and Simon Smart
Chem. Commun., 2013,49, 4534-4536
DOI: 10.1039/C3CC40434J, Communication
Water in the Earth's mantle: a solid-state NMR study of hydrous wadsleyite
John M. Griffin, Andrew J. Berry, Daniel J. Frost, Stephen Wimperis and Sharon E. Ashbrook
Chem. Sci., 2013,4, 1523-1538
DOI: 10.1039/C3SC21892A, Edge Article