This year, we are delighted to celebrate 10 years of Catalysis Science & Technology. Our inaugural issue was published in early 2011, and since then we have continued to publish a variety of content from across the wide-ranging research areas of our diverse community.
We are pleased to introduce a number of new initiatives in celebration of the journal's 10th anniversary. This includes broadening our journal's scope to be inclusive of the wide-ranging interests of the catalysis science community; relaunching themed collections including a new ongoing Emerging Investigators series highlighting up-and-coming scientists in the early stages of their independent careers and a 2-day virtual symposium on 16-17 November. Sign up to the journal's e-alerts for upcoming updates on these initiatives and further information about our activities can be found below.

Emerging Investigators Series
Catalysis Science & Technology is pleased to present its inaugural Emerging Investigator Series, showcasing the work being conducted by Emerging Investigators in all areas of catalysis science across the globe. It highlights up-and-coming scientists in the early stages of their independent careers, who have been identified as having the potential to influence future directions in the field.
More details about the Emerging Investigator Series can be found on the blog, including information on eligibility and how to apply for consideration as well as more information about the corresponding authors featured in this collection. Check out the collection here: rsc.li/cst-emerging

Refreshed journal scope
We are pleased to launch our refreshed journal scope, which aims to be inclusive of all types of research work carried out by the catalysis community at large.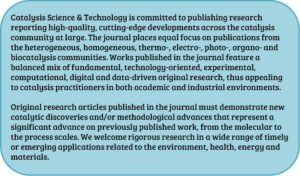 Themed Collection: operando & in-situ spectroscopy
This themed collection Guest Edited by Professor Angelika Brueckner (Leibniz-Institut für Katalyse, Germany), Professor Jian-Feng Li (Xiamen University, China) and Catalysis Science & Technology Associate Editor Professor Bin Liu (Nanyang Technological University, Singapore) will showcase cutting-edge advances in the areas of in situ and operando spectroscopy. The research works featured in this collection will cover the broad spectrum of catalytic science research as well as a variety of spectroscopic techniques and methodologies.
Contact the Editorial Office at catalysis-rsc@rsc.org with an abstract if you are interested in submitting a paper for consideration as part of this collection, which will be available online in early 2022.
Catalysis Science & Technology 10th year anniversary Symposium
Join us for this exciting 2-day virtual symposium, sponsored by Catalysis Science & Technology, to celebrate the journal's 10-year anniversary. The event will showcase cutting edge research across all areas of catalysis and provides an opportunity for the broad catalysis community to come together in honour of the journal's important milestone.
The programme will feature invited speakers from a wide variety of research areas, including some fantastic emerging investigators, a panel discussion as well as a poster session. We hope the event will give you lots of opportunities to network and engage with other attendees. Join us for some exciting discussions and to share your ideas with key members of the catalysis science community.
Submit your abstract and save the date here: rsc.li/CST10
—
Please join us in celebrating the journal's important milestone and we hope you enjoy our upcoming initiatives and activities. We hope to see you at the Symposium later this year!