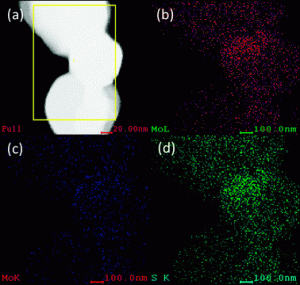 In this Catalysis Science & Technology Hot Article, Miguel José-Yacamán at the University of Texas, San Antonio and colleagues from Portugal and Mexico investigated the synthesis and catalytic activity of molybdenum disulfide nanoplates.
The authors found that the optimum synthesis and annealing temperatures for producing the most hexagonal nanoplates with no impurities were 700 and 1000 °C respectively and the optimum reaction time was 2.5 hours.
The catalytic activity of the nanoparticles in the hydrodesulfurization of dibenzothiophene was tested and the activity was found to be comparable to, or higher than, other molybdenum disulfide-based catalysts. The nanoplates, however, showed greater selectivity for the biphenyl (desulfurization) product rather than the direct hydrogenation products preferred by the other catalysts.
Theoretical studies revealed that the rotated state of the catalyst, with a tendency to more metallic behavior, is favored, which could explain the improved catalytic activity of the nanoplates.
Read more for FREE until 15th June 2011:
Structure and catalytic properties of hexagonal molybdenum disulfide nanoplates
Carlos Fernando Castro-Guerrero, Francis Leonard Deepak, Arturo Ponce, Juan Cruz-Reyes, Mario Del Valle-Granados, Sergio Fuentes-Moyado, D. H. Galván and Miguel José-Yacamán
Catal. Sci. Technol., 2011, Advance Article
DOI: 10.1039/C1CY00055A, Paper