Posted on behalf of Tien Nguyen

Tien Nguyen is working towards her PhD in David Nicewicz's research group at the University of North Carolina at Chapel Hill, USA. Her current area of research focuses on anti-Markovnikov hydroamination of alkenes using photoredox catalysis.
---
To satisfy the energy demands of an ever-increasing population, it is critical to develop renewable energy sources. Photocatalytic hydrogen production from water stands out among the alternatives as this process yields a clean energy source and relies on visible light, which has exciting implications for harnessing the power of the sun.
In this article, Matsuoka and co-workers report efficient hydrogen production employing a Pt-deposited amino-functionalized Ti metal organic framework catalyst (Pt/Ti-MOF-NH2) in aqueous triethanolamine (TEOA) and visible light. The organic linker serves to absorb the light and donate electrons to the titanium-oxo cluster with TEOA present as a sacrificial electron donor. An optimal loading of 1.5 wt% was found for the Pt cocatalyst, which is proposed to trap the photogenerated electrons and suppress unproductive electron-hole recombination.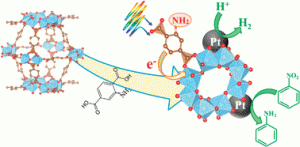 The authors also successfully extended this system to the reduction of nitrobenzene, providing an environmentally benign alternative to existing methods. They found that the photocatalyst could be reused at least three times with no appreciable loss in activity. These findings hold promise for the development of highly efficient photocatalysts promoted by naturally abundant sunlight.
Read the full article here:
Efficient hydrogen production and photocatalytic reduction of nitrobenzene over a visible-light-responsive metal–organic framework photocatalyst
Takashi Toyao, Masakazu Saito, Yu Horiuchi, Katsunori Mochizuki, Masatoshi Iwata, Hideyuki Higashimura and Masaya Matsuoka
Catal. Sci. Technol., 2013, DOI: 10.1039/c3cy00211j