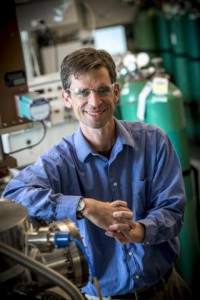 We are delighted to welcome Professor Will Medlin as our newest Associate Editor for Catalysis Science & Technology.
Will Medlin received his Bachelors in chemical engineering from Clemson University in 1996 and his PhD from the University of Delaware in 2001. After conducting postdoctoral research at Sandia National Laboratories, he joined the chemical and biological engineering department at the University of Colorado, where he is currently the Denver Business Challenge Endowed Professor.
His research interests are in the area of heterogeneous catalysis and surface science, with particular emphases on investigations of catalytic chemistry on well-defined surfaces, and on controlling the near-surface environment of heterogeneous catalysts with organic monolayers and thin films.
Welcome to the team Will!