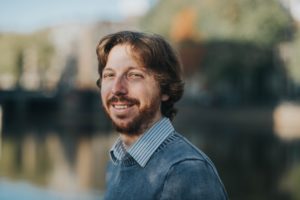 Peter Deuss completed his studies at the University of Amsterdam, NL and thereafter joined the group of Paul Kamer at the University of St. Andrews, Scotland, UK as a PhD student working on bioinspired catalysis. He obtained his degree in 2011, moving on to work on bioconjugation technology development at the MRC UK, Laboratory of Molecular Biology Cambridge in the group of Mike Gait. In 2013, he moved to the University of Groningen where, after post-doctoral work in the groups of Katalin Barta and Erik Heeres working on the catalytic conversion of renewable resources to chemicals, he started in 2016 as a tenure track assistant professor at the chemical engineering department of the Engineering and Technology Institute Groningen (ENTEG). He recently got promoted to Associate Professor Catalytic Processing of Sustainable Resources.
Read his open access Emerging Investigator article "Benign catalytic oxidation of potato starch using a homogeneous binuclear manganese catalyst and hydrogen peroxide", DOI: 10.1039/D2CY01629J, and read more about his work in the interview below.
How do you feel about Catalysis Science & Technology as a place to publish research on this topic?
I consider Catalysis Science & Technology an excellent place for publishing catalysis research. It is a well-respected journal that includes a great mix of fundamental as well as applied catalysis research.
What aspect of your work are you most excited about at the moment and what do you find most challenging about your research?
My biggest excitement comes from seeing young researchers grow into a topic and see them often surpass me on knowledge on specific aspects. Being part of this growth as a person and as a researcher brings a lot of satisfaction.
In your opinion, what are the most important questions to be asked/answered in this field of research?
In relation to the catalysis for conversion of renewable resources, one of the key aspects is the integration of novel catalytic methodology into well established processes and how these should evolve to allow for fundamentally more sustainable and green chemistry to be implemented.
Can you share one piece of career-related advice or wisdom with other early career scientists?
Ensure you keep an interest in science beyond your field as it is at the interfaces that the most exciting and impactful developments take place.
Find out more about his research at the University of Groningen on twitter (@univgroningen) or Linked in.