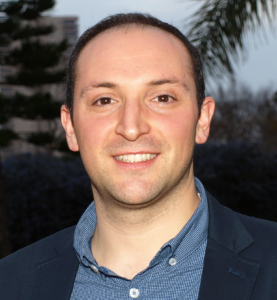 Rafael Gramage-Doria received his PhD (2012) from the University of Strasbourg (France) with Prof. Dominique Armspach and Dr Dominique Matt. After a postdoctoral NWO-Rubicon fellowship with Prof. Joost N. H. Reek at the University of Amsterdam (Netherlands) and later with Prof. Takashi Ooi at Nagoya University (Japan), he joined the Institute of Chemical Sciences of the University of Rennes (France) as a CNRS senior researcher in 2015, where he obtained his Habilitation diploma (2019).
His research activities include transition metal catalysis for fine chemicals and green chemistry applications, C–H bond functionalization, supramolecular and coordination chemistry, and supramolecular and bio-inspired catalysis. He is author of >40 publications and he has delivered >30 (inter)national lectures.
Read his Emerging Investigator article "Ruthenium-catalysed oxidative coupling of vinyl derivatives and application in tandem hydrogenation" and read more about his in the interview below:
How do you feel about Catalysis Science & Technology as a place to publish?
Catal. Sci. Technol. is regarded as one of the most important journals in the area of catalysis not only because of the excellent impact factor but also because it ensures worldwide visibility of our research contributions. The broad readership is ensured by the different topics related to catalysis from fundamental/specific questions to practical applications. Our humble experience with editors and reviewers has been excellent due to the high standards and professionalism they have.
What aspect of your work are you most excited about at the moment and what do you find most challenging about your research?
We are chemists performing research on homogeneous catalysis using organometallic complexes in the broad sense. Developing new chemical reactions as well as controlling the selectivity when multiple products can form is highly attractive for us. To meet this challenge, we rationally design appropriate organometallic catalysts as well as to carefully fine-tune the reaction conditions.
In your opinion, what are the most important questions to be asked/answered in this field of research?
In my opinion, the most interesting scientific questions to be addressed in the future is how to design more powerful, more selective and less energetically demanding catalytic systems. In other words, how can we get more efficient man made catalysts? And the answer to this question might be to look at nature's catalysts, enzymes, which display unparalleled activity and selectivity in biological transformations. The idea to mimic (some of) their features for implementation in abiological catalysts is a promising pathway.
Can you share one piece of career-related advice or wisdom with other early career scientists?
I do not feel to be in a position to give any advice at all publicly, but I could share a couple of really good advices I received when I was younger: (1) when preparing a manuscript (or an oral presentation), keep in mind the reader (or the audience) in order to make clear what you wish to communicate (the not-so-hidden message is to provide nice scheme/figures and attractive text); (2) always ask yourself and colleagues what is the fundamental scientific question you are addressing in that project or in that experiment; and (3) be supportive and helpful towards students, we all have been there, so do not forget that.
Keep up to date with Rafael and his research by following his Twitter @Rafa_gramage, and visit his group website here.