Associate Editor Bin Liu has selected some outstanding recent research from Catalysis Science & Technology to share with you. Read now for free until 26th April 2021.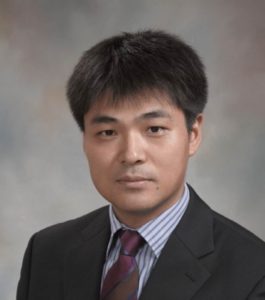 Bin received his B.Eng. (1st Class Honours) and M.Eng. degrees in Chemical Engineering from the National University of Singapore in 2002 and 2004, respectively, and obtained his Ph.D. degree in Chemical Engineering from University of Minnesota in 2011. Thereafter, he moved to University of California, Berkeley and worked as a postdoctoral researcher in Department of Chemistry during 2011 – 2012 before joining School of Chemical and Biomedical Engineering at Nanyang Technological University as an Assistant Professor in 2012. He is now an Associate Professor at Nanyang Technological University. His main research interests are electrocatalysis, photovoltaics and photoelectrochemistry.
Paper
Bimetallic PtIr nanoalloy on TiO2-based solid solution oxide with enhanced oxygen reduction and ethanol electro-oxidation performance in direct ethanol fuel cells
Tai Thien Huynh, Nam Nguyen Dang &  Hau Quoc Pham
Catal. Sci. Technol., 2021, Advance Article. DOI: 10.1039/D0CY02056G
Mini Review
Selective CO2 reduction towards a single upgraded product: a minireview on multi-elemental copper-free electrocatalysts
Madeleine K. Wilsey, Connor P. Cox, Ryland C. Forsythe, Luke R. McCarney & Astrid M. Müller
Catal. Sci. Technol., 2021, Advance Article. DOI: 10.1039/D0CY02010A
Paper
Silicon microfabricated reactor for operando XAS/DRIFTS studies of heterogeneous catalytic reactions
Venezia, E. Cao, S. K. Matam, C. Waldron, G. Cibin, E. K. Gibson, S. Golunski, P. P. Wells, I. Silverwood, C. R. A. Catlow, G. Sankarh & A. Gavriilidis
Catal. Sci. Technol., 2020, 10, 7842-7856. DOI: 10.1039/D0CY01608J
We hope you enjoy reading these articles!