Associate Editor Jinhua Ye has selected some outstanding research to share with you from Catalysis Science & Technology. Read now for free until 18th August 2020.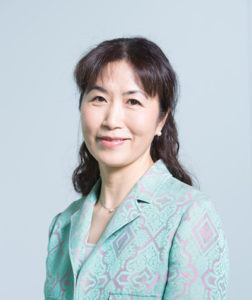 Jinhua Ye received her PhD from the University of Tokyo in 1990, and joined National Research Institute for Metals (former NIMS) in 1991. She is now a Principle Investigator and the Field Coordinator of Nano-Power Field at International Center for Materials Nanoarchitectonics (MANA), National Institute of Materials Science (NIMS), and a Professor of Joint Doctoral Program in Graduate School of Chemical Science and Engineering, Hokkaido University, Japan. She is also the appointed director of TU-NIMS Joint Research Center, and Professor of Materials Science at Tianjin University, China.
Her research interests focus on the research and development of novel photocatalytic materials and their applications in the fields of environment remediation and solar to chemical energy conversion.
Paper
980 nm NIR light driven overall water splitting over a combined CdS–RGO–NaYF4–Yb3+/Er3+ photocatalyst
Gao, Wei; Wu, Yuqi; Lu, Gongxuan
Catal. Sci. Technol., 2020, 10, 2389-2397. DOI: 10.1039/D0CY00256A
Communication
A PMMA-based heterogeneous photocatalyst for visible light-promoted [4 + 2] cycloaddition
Huber, Niklas; Li, Run; Ferguson, Calum; Gehrig, Dominik; Ramanan, Charusheela; Blom, Paul; Landfester, Katharina; Zhang, Kai
Catal. Sci. Technol., 2020, 10, 2092-2099. DOI: 10.1039/D0CY00016G
Paper
An atomic insight into BiOBr/La2Ti2O7 p–n heterojunctions: interfacial charge transfer pathway and photocatalysis mechanism
Wu, Huizhong; Chen, Ruimin; Wang, Hong; Cui, Wen; Li, Jieyuan; Wang, Jiadong; Yuan, Chaowei; Zhuo, Lin; Zhang, Yuxin; Dong, Fan
Catal. Sci. Technol., 2020, 10, 826-834. DOI: 10.1039/C9CY02230A
Paper
Photocatalytic hydrogen evolution over nickel cobalt bimetallic phosphate anchored graphitic carbon nitrides by regulation of d-band electronic structure
Zhang, Yuanzheng; Dai, Yunrong; Yin, Lifeng; Li, Huihui; Chen, Xiang; Chen, Bin
Catal. Sci. Technol., 2020, Accepted Manuscript. DOI: 10.1039/D0CY00556H
Paper
Tunable surface modification of a hematite photoanode by a Co(salen)-based cocatalyst for boosting photoelectrochemical performance
Wang, Ruiling; Kuwahara, Yasutaka; Mori, Kohsuke; Bu, Yuyu; Yamashita, Hiromi
Catal. Sci. Technol., 2020, 10, 1714-1723. DOI: 10.1039/C9CY02481F
We hope you enjoy reading the articles!