We are delighted to present a themed issue on 'Mechanistic studies in catalysis', which encompasses novel and diverse research in both homogeneous and heterogeneous catalysis. The guest editors for this themed issue are Professors John Brown (University of Oxford), Andreas Pfaltz (University of Basel), and Rutger van Santen (Eindhoven University of Technology).
Here's a few highlights from the issue: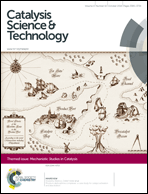 Perspective: Distinguishing homogeneous from nanoparticle asymmetric iron catalysis, Jessica F. Sonnenburg and Robert H. Morris, DOI: 10.1039/c4cy00468j
Perspective: Differential selectivity measurements and competitive reaction methods as effective means for mechanistic studies of complex catalytic reactions, Alexander F. Schmidt, Anna A. Kurokhtina and Elizaveta V. Larina, DOI: 10.1039/c4cy00479E
Minireview: Rhodium diphosphine complexes: a case study for catalyst activation and deactivation, Antje Meißner, Elisabetta Alberico, Hans-Joachim Drexler, Wolfgang Baumann and Detlef Heller, DOI: 10.1039/c4cy00497C
Many more great contributions have been received, so make sure to have a look at the rest of the themed collection online now!