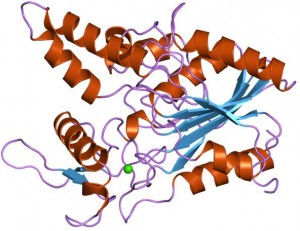 Posted on behalf of Shreesha Bhat
ncAAs to Lipase:" Here I come comrade, to help you combat hostile environment"
"A friend in need is a friend indeed". This proverb was justified in an area of chemical research where a group of German scientists devised a new strategy for assisting lipases in hostile environments. Lipases have an important role in organic chemistry as biocatalysts, but have stability issues in organic solvents and other hostile environments making them industrially non-feasible. Among the various approaches used to improve the stability of enzymes, an alternative strategy involving the incorporation of non-canonical amino acids (ncAAs) into the enzymes was adopted by the researchers, which not only resulted in improved stability but also enhanced activity and efficiency.
The subject of study was a lipase obtained from the thermostable bacterium Thermoanaerobacter thermohydrosulfuricus (TTL), from which various ncAAs-containing congeners (mainly analogues of tryptophan, proline, tyrosine, methionine and phenylalanine) were prepared and screened against various organic solvents. They were also evaluated against a set of hostile environments such as metal cations, surfactants, protein reducing, alkylating and denaturing agents, etc. Some congeners conferred stability against pyridine (an important co-solvent for lipase catalyzed polymer synthesis) while some against tert-butanol (solvent for biodiesel production) which is very likely to have a positive influence in the industrial arena.
The present Communication not only demonstrates the potential advantages of using ncAAs in hostile environments but also highlights the challenges that lay ahead in selective biocatalytic transformations.
Find out more about the potential of non-canonical amino acids by reading :
Non-canonical amino acids as a useful synthetic biological tool for lipase-catalysed reactions in hostile environments
Carlos G. Acevedo-Rocha, Michael G. Hoesl, Sebastian Nehring, Marina Royter, Christina Wolschner, Birgit Wiltschi, Garabed Antranikian and Nediljko Budisa
Catal. Sci. Technol., 2013, DOI: 10.1039/C3CY20712A