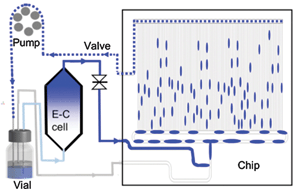 Many biocatalysts require expensive co-factors when they are used in the production of industrially relevant compounds, but a team of UK chemists has replaced one such co-factor – nicotinamide adenine dinucleotide phosphate (NADPH) – with a smaller, more practical molecule: methyl viologen.
The production of cyclohexanone has been successfully catalysed using this method, combining methyl viologen with a biocatalyst enzyme in an electrochemical microfluidic set-up.
The work, published in Catalysis Science & Technology, represents the first time such enzyme-catalysed chemistry has been carried out without a co-factor, and presents a practical and economic route to its use in large-scale synthesis.
Read the article…
Electro-enzymatic viologen-mediated substrate reduction using pentaerythritol tetranitrate reductase and a parallel, segmented fluid flow system
Karl Fisher, Stephan Mohr, David Mansell, Nicholas J. Goddard, Peter R. Fielden and Nigel S. Scrutton