This month's Catalysis Science & Technology issue is the devoted to Homogeneous and Heterogeneous Catalysis in Industry.
The themed issue which is guest edited by Professors Hans de Vries (DSM and University of Groningen) and David Jackson (University of Glasgow) comprises a selection of articles that illustrate the research necessary for moving a reaction off the lab bench and into the industrial plant. Unsurprisingly, catalytic research is often key to this journey.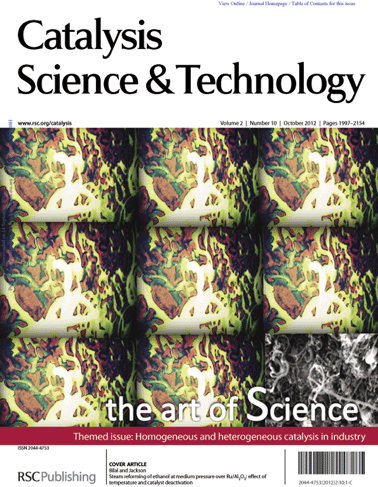 Select the links below to read the Editorial and review articles. The full issue can be accessed here.
Editorial
Homogeneous and Heterogeneous Catalysis in Industry; Johannes G. de Vries and S. David Jackson
Perspective
First-principles kinetic modeling in heterogeneous catalysis: an industrial perspective on best-practice, gaps and needs; Maarten K. Sabbe, Marie-Françoise Reyniers and Karsten Reuter
Mini Review
Advances in conversion of hemicellulosic biomass to furfural and upgrading to biofuels; Saikat Dutta, Sudipta De, Basudeb Saha and Md. Imteyaz Alam