K-promoted Mo carbide catalyst could replace expensive Pt in Fischer–Tropsch synthesis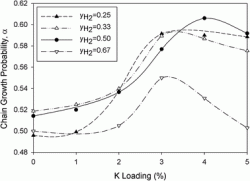 This HOT paper reports the promotional effect of potassium addition to an alumina-supported molybdenum carbide catalyst in Fischer–Tropsch synthesis of higher hydrocarbons like olefins and paraffins.  Such a catalyst could replace expensive expensive platinum catalysts for liquid fuel production.
Download the manuscript to find out more…
A potassium-promoted Mo carbide catalyst system for hydrocarbon synthesis
Dai-Viet N. Vo and Adesoji A. Adesina
Catal. Sci. Technol., 2012, Advance Article
DOI: 10.1039/C2CY20385E, Paper
You might also find the following articles interesting…
Low temperature hydrogenolysis of waxes to diesel range gasoline and light alkanes: Comparison of catalytic properties of group 4, 5 and 6 metal hydrides supported on silica–alumina
Sebastien Norsic, Cherif Larabi, Marco Delgado, Anthony Garron, Aimery de Mallmann, Catherine Santini, Kai C. Szeto, Jean-Marie Basset and Mostafa Taoufik
Catal. Sci. Technol., 2012, 2, 215-219
DOI: 10.1039/C1CY00256B
Fischer–Tropsch reaction–diffusion in a cobalt catalyst particle: aspects of activity and selectivity for a variable chain growth probability
David Vervloet,  Freek Kapteijn,  John Nijenhuis and J. Ruud van Ommen
Catal. Sci. Technol., 2012, 2, 1221-1233
DOI: 10.1039/C2CY20060K
A highly selective Raney Fe@HZSM-5 Fischer–Tropsch synthesis catalyst for gasoline production: one-pot synthesis and unexpected effect of zeolites
Bo Sun,  Guobin Yu,  Jun Lin,  Ke Xu,  Yan Pei,  Shirun Yan,  Minghua Qiao,  Kangnian Fan,  Xiaoxin Zhang and Baoning Zong
Catal. Sci. Technol., 2012, 2, 1625-1629
DOI: 10.1039/C2CY20155K
Make sure that you're signed up to the Catalysis Science & Technology e-alerts to keep up-to-date with the latest journal content.