Laurent Lefort and Jared W. Fennell with colleagues had developed a way to improve the diastereoselectivity from 75:25 to 95:5 for a key reaction in generating glutamate antagonists.
The team screened a range of heterogeneous catalysts and found a Pd/C catalyst which should raise the yield by 40% and reduce the costs of the reaction compared to a currently used process involving a rhodium catalyst.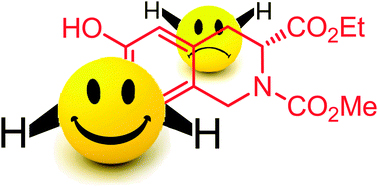 Glutamate acts as a neurotransmitter and antagonists are highly sought in the pharmaceutical industry for development of new drugs and treatments. Improving the yields and selectivity of the reactions to produce these compounds is an important area for catalyst development.
More details can be found in the teams article below, which will be published in our upcoming themed issue focusing on catalysis in industry
l
A detailed study of the diastereoselective catalytic hydrogenation of 6-hydroxytetrahydroisoquinoline-(3R)-carboxylic ester intermediates
Laurent Lefort, Natascha Sereinig, Harrie Straatman, David J. Ager, Johannes G. de Vries, John A. Werner, Roger B. Scherer, Todd D. Maloney, Mark D. Argentine, Kevin A. Sullivan and Jared W. Fennell
Catal. Sci. Technol., 2012, Advance Article
DOI: 10.1039/C2CY20251D
Which will also include,
Advances in conversion of hemicellulosic biomass to furfural and upgrade to biofuels
Basudeb Saha, saikat dutta, Sudipta De and Imteyaz Alam
Catal. Sci. Technol., 2012, Accepted Manuscript
DOI: 10.1039/C2CY20235B
Kinetic aspects and deactivation behaviour of chromia-based catalysts in hydrogen chloride oxidation
Amol P Amrute, Cecilia Mondelli and Javier Pérez-Ramírez
Catal. Sci. Technol., 2012, Accepted Manuscript
DOI: 10.1039/C2CY20185B