Catalysis Science & Technology Editorial Board member, Deryn Fogg and her team have found a way to synthesise methylidene derivatives of Grubbs-type second generation catalysts – intermediates in cross metathesis and ring-closing metathesis reactions. 
The ability to isolate these complexes (which up until now has only been achieved in relatively low yields) creates an opportunity to gain mechanistic insight into olefin metathesis reactions.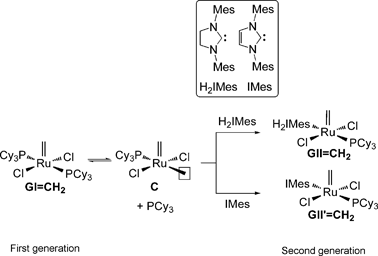 Fogg and her team overcame the problematic low yields of the methylidene-second generation catalysts by taking a step backwards – they focused on the first generation Grubbs catalysts. Unlike, the second generation catalysts,  methylidene derivatives of their first generation predecessors can be formed in quantitative yields. Clever ligand exchange of the PCy3 ligand with free carbenes resulted in the desired second generation complex.
Download the full article to read more – it won't close you a thing!
Targeting an Achilles heel in olefin metathesis: A strategy for high-yield synthesis of second-generation Grubbs methylidene catalysts
Justin A. M. Lummiss, Nicholas J. Beach, Jeffrey C. Smith and Deryn E. Fogg
For more catalysis research direct to your email inbox, register for the Catalysis Science & Technology e-alerts