Tungsten-based polyoxometalates have been identified as ideal catalysts for epoxidation of alkenes, particularly since the corresponding reaction utilises H2O2 as the oxidant where only water is produced as the by-product. In order for this catalytic approach to be useful for industrial scale-up, the catalyst must be able to be separated from the products and recycled – heterogeneous catalysis being one route to achieve this.
In their recent HOT Catalysis Science & Technology article, Jean-Marc Clacens and his team describe how the tungsten POMs can be encapsulated within mesoporous silica (SBA-15) to effect the epoxidation of styrene and methyl oleate in solvent-free conditions. By grafting octyl groups onto the surface at the pore entrances, they ensured that the POM species did not leach from the silica, enabling re-use of the catalyst.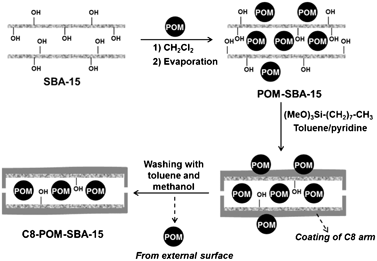 Clacen's method is sure to inspire further research for developing green syntheses of such synthetically valuable epoxide molecules.
Download the article now for free now…
Catalytic epoxidation of styrene and methyl oleate over peroxophosphotungstate entrapped in mesoporous SBA-15
Evelyne Poli,  Rodolphe De Sousa,  François Jérome,  Yannick Pouilloux and Jean-Marc Clacens
Make sure you sign up to our Catalysis Science & Technology e-alerts to ensure you're the first to read the latest cutting edge research in catalysis.