In heterogeneous catalysis material surface and surface conformation play a vital role in catalysis. Materials such as alloys often contain a very different chemical composition at the surface compared to the bulk material, referred to as surface segregation this phenomenon is largely controlled by surface energy. Unfortunately surface energy alone cannot accurately predict the alloys catalytic activity as there are a range of other parameters which influence reaction rates.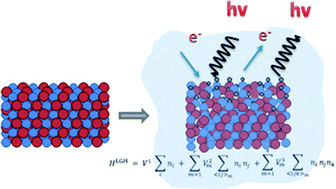 This review by Spiros Zafeiratos, Simone Piccininb and Detre Teschner discusses the behaviour of some of the most important bimetallic catalysts, looking at the theoretical and practical aspects of their reactions. The authors also discuss the importance of in situ analysis of surfaces to understand reaction mechanisms, looking at how APPES, XANES, FT-IR, STM and theoretical approaches have been used to better understand these alloy surfaces during reaction.
All articles in Catalysis Science & Technology are free to access for the duration of 2012, so you can download this article today for free.
Alloys in catalysis: phase separation and surface segregation phenomena in response to the reactive environment
Spiros Zafeiratos, Simone Piccinin and Detre Teschner
Catal. Sci. Technol., 2012, Advance Article
DOI: 10.1039/C2CY00487A
You can also keep up to date with the latest news in catalysis by following us on twitter, liking us on facebook or signing up to our e-alert service.