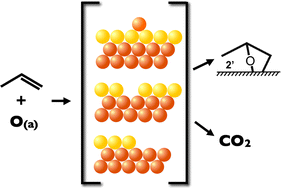 Cynthia Friend and colleagues at Harvard University look at how propene bonds and reacts on the surface of gold in this Catalysis Science & Technology paper.
This work aids the understanding of the catalytic conversion of olefins to epoxides, as epoxides are an important intermediate in the chemical industry.
To find out more about this group, read our interview with Cynthia Friend.
Read the full article for FREE to find out more…
Role of defects in propene adsorption and reaction on a partially O-covered Au(111) surface
Thomas A. Baker, Bingjun Xu, Stephen C. Jensen, Cynthia M. Friend and Efthimios Kaxiras. Catal. Sci. Technol., 2011, DOI: 10.1039/C1CY00076D
Don't forget to follow us on Twitter, like us on Facebook and sign up for free access and table of content e-alerts.