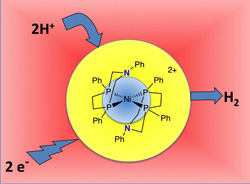 Check out this recent Science paper on 'A Synthetic Nickel Electrocatalyst with a Turnover Frequency Above 100,000 s−1 for H2 Production'.
Morris Bullock, Daniel Du Bois and colleagues from the Pacific Northwest National Laboratory in the USA make a nickel catalyst which produces hydrogen at 10 times the rate of the enzyme hydrogenase, and much faster than commercially available catalysts.
Read the C

hemistry World article here to find out more.